So I'm getting up at a dark and owl-haunted hour six days a week, laboring away morning by morning on a book which is impossibly huge and complicated.
(Excuse me for a moment. HISTORY OF THE WORLD? Are you KIDDING? Why did I say I would DO THIS? I mean, it's a RIDICULOUS project anyway, and OH YES, I'M HOME EDUCATING FOUR CHILDREN and my husband is a MINISTER which means my weekends are already full, not to mention my weeks, and after getting up at 4 AM five mornings in a row I have written a total of four pages which appear, on second reading, TO BE NOTHING MORE THAN–)
Ahem.
Anyway, I had scheduled my speaking engagements so that they would all fall AFTER May 1. I'm usually booked up a year in advance, and a year ago I figured, stupidly, that I'd be finished with this book by my original deadline. No such luck. I'll still be working on the thing in May, when I go to New York and Los Angeles; and in June, when I go to Seattle; and in July, when I go to Texas and Georgia ; and in August, when I go back to New York. (More dates in September and October, but theoretically I'll be done with the book by then. Theoretically.)
So I bought myself a travel computer. I adore my MacBook Pro, but it's not as portable as it could be, especially when I'm trying to fly without checking any bags. I needed something smaller.
I now own a MacBook Air.
It is absolutely the coolest thing I have ever seen. I can actually put the MacBook Air in my purse.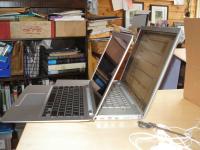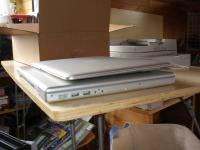 When I schlepped Christopher (still the proud owner of a learner's permit and not a full license) to his weekly social outlet on Sunday night, I took it to my usual waiting-for-my-kid-but-at-least-I-can-eat-great-food hangout and sat at the bar with it, eating escargot and bittersweet chocolate ice cream and tinkering around with the settings. "You know you're creating a stir with that thing," the bartender said, which seemed to be the case when the dining room manager came out to see it and told me I should show it to the chef. Hey, if I can't be known for the brilliance of my prose, at least my new computer stands out.
This is not a paid ad, by the way; I just drank the Kool-Aid.
More rational updates soon…