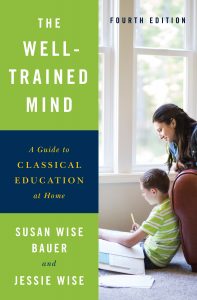 Susan's first book for Norton, The Well-Trained Mind: A Guide to Classical Education at Home , was co-authored by her mother Jessie Wise. The Well-Trained Mind offers parents a clear, step-by-step guide to providing their children with an academically excellent, comprehensive education, from preschool through high school—one that will teach young students to read, think, and understand, and to be well-rounded and curious about learning. The Well-Trained Mind provides book and curricula recommendations and teaching methods for every grade, in every subject—along with answers to common questions about home education, advice on standardized testing, templates for high school transcripts, guidance to college applications, and much more.
First published in 1999, The Well-Trained Mind has gone through four editions and sold over 200,000 copies. Thousands of families, along with private schools, charter schools, and co-op groups, have successfully used the methods and recommendations of The Well-Trained Mind.
Visit welltrainedmind.com for articles, recommendations, and more about the book, or join other parent-teachers at the largest home schooling and classical education forum on the web, The Well-Trained Mind Forums. And be sure to check out the classes at The Well-Trained Mind Academy, the online academy founded by Susan Wise Bauer to provide live, instructor-led classes based on the methods described in the book.