This week I've been taking care of various Peace Hill Press duties, meditating on the format for the middle-grade levels of the Writing With Ease series…and turning back to work, in my creative hours, on the next volume of the history of the entire world.
I don't yet have a title for the third volume, but that's another blog post.
Anyway, I'm attempting to adjust to my new frame of mind: working on the third volume, weighing and discarding themes that will tie it together, drawing up chronologies and time lines, following rabbit trails to see if they lead to anything–an incident, a chronicle, a character, a tragedy-worth clearing out around.
Not so easy. I've been working frantically toward the deadline for the last book so long that I've gotten too goal-focused to do this sort of exploration well. It takes a certain willingness to waste time.
So today's task: wander down the road without wondering where it ends.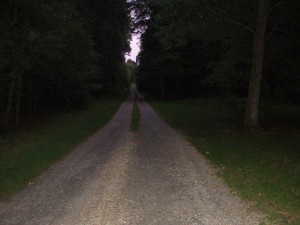 (Actually I know where that road ends–it's the farm lane that comes out onto Route 615 in Charles City, but I thought it was a nice dramatic way to end the post.)