This week's update comes from Surrey, British Columbia, just south of Vancouver; my mother was supposed to lecture at an education conference here, but a family emergency kept her home, so I came up to pinch-hit for her. (It takes a LONG time to get from Virginia to Vancouver, no matter how you do it.) I took Christopher and Ben with me; yesterday we drove into Vancouver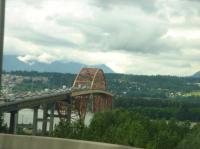 and spent some time sightseeing.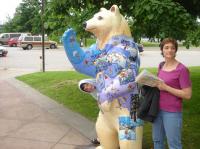 Back at home, the History of the Ancient World has now gone into composition–the process that creates the pages you'll see when you open the finished book. Once all the text has been put into this format, Norton will print them all out and send them to me in a big unbound stack–the "first page proofs." I'll have one last chance to make changes as I read through them, but if the changes amount to more than 10% of the total text, Norton will charge me for them.
While I wait for the first page proofs, I've got to finish this darned author questionnaire. I have been putting this thing off because Louise Brockett at Norton said they wouldn't really need it until June. Now I've got to make myself do it.
Does anybody want to help out? I could particularly use suggestions for the following. I'm supposed to identify:
1. Special interest groups, associations, societies, or organizations that might make bulk purchases of your book.
2. Mail-order catalogs and/or Internet sites (excluding major booksellers like Amazon.com) that specialize in the subject.
3. Any specialized magazines, journals, Web sites, or newsletters that focus on the subject area addressed in your book. Include addresses and phone numbers if you have them.
4. Newspaper or magazine columnists who write about subjects similar to that of your book.
5. Any television or radio programs that focus on the subject area addressed in your book.
So do you belong to a historical society, or buy books from a catalog that features history titles, or read a history magazine…or listen to a local show, or read a local column, that tends to mention ancient history, the teaching of history, or anything tangentially related? If so, please post.
Now I'm going to go join the boys, who are watching King Kong in the hotel room and eating a whole lot of pizza.