My photo-chronicle of the Great Chicken Plucking seems to have raised a burning question in dozens of minds: what is the proper temperature at which to scald a chicken?
The answer, according to my mother (seen scalding a chicken below, with the help of our neighbor from across the road), is 140-145 degrees (F). Less than that, and the feathers don't come off. More, and you end up pre-cooking some of the chicken.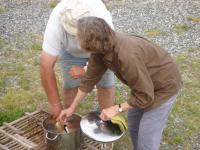 The second most popular question is: How can I build my own Whiz Bang Automated Chicken Plucker? The plans we used were from Herrick Kimball's book, Anyone Can Build a Tub-Style Mechanical Chicken Plucker.
Over in that alternate universe (the one where I write books), my editor has decided that all of the time line designs currently on the table are confusing. So we're redoing all the time lines vertically.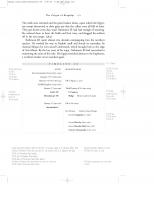 Which means I get to retype them all. Hurrah.
Meanwhile I'm trying to finish off the outline for Book Two. Will post more as soon as it gets finished…