Well, I have managed to stay up all day, after missing an entire night's sleep on that awful trans-Atlantic flight. This is the best way to fight jet-lag–keep moving until the evening after the flight and then collapse into a stupor.
So I spent most of the morning climbing around Dover Castle and taking pictures of random things that struck me, like the passageway to Thomas a Beckett's chapel,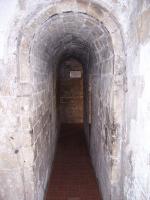 and a window just off the gallery,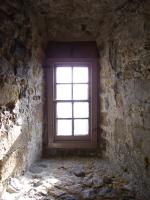 and Calais, off in the distance.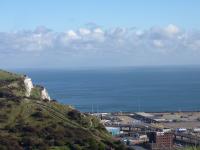 In the early afternoon I took the SeaFrance ferry over to Calais, which gave me a chance to look back at the Dover cliffs. They are SO white that they hardly look real.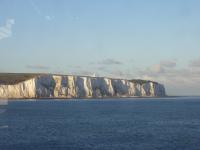 Now I'm in a French hotel room, wondering whether it's my sleep-deprived state that makes the notice on top of the toilet seem…odd.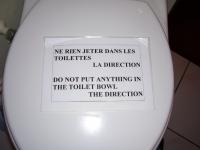 Huh.