I haven't posted for a week and a half because I've been frantically finishing up work before I get on a plane for Europe. Yes, this is my yearly Research Trip. I'm meeting my friend Elizabeth in Paris; we're going to spend three days exploring the Loire Valley and taking pictures of medieval castles, and then I'm going to take the Eurostar back to England (I'm already fretting about the Chunnel) and spend six days in Oxford working at the Oriental Institute.
No, really, it's Research. No, I can't do it in the States. I have to go to Europe. Darn. I'll post updates during the trip.
While finishing up a ton of preparatory work, I've also been celebrating birthdays (two October birthdays in my family):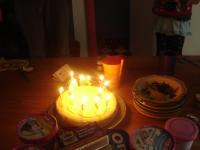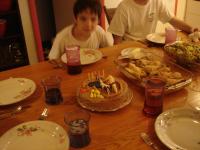 and part of the family tradition is that I make and decorate the birthday cake in whatever flavor and shape the birthday kid requests. (You should have seen the Jonah and the Whale cake a few years ago. The erupting volcano was pretty cool too.)
Meanwhile, my editor's assistant emails to tell me that the second pass (the typeset galleys with all my corrections incorporated) will "be with me on Wednesday." I begged to have the chance to check the changes; normally authors don't get to see the second pass, because it's already being indexed, and any additions can throw the page divisions off and mess up a whole lot of indexing. However, the good folks at Norton agreed to let me inspect it one last time, as long as I ONLY check for errors and promise not to yield to the temptation to fiddle with my prose.
They also agreed to give me some advance notice when the second pass was on its way. Forty-eight hours is NOT advance notice. So unless they can overnight it to Calais or Oxford, it isn't going to get back to them in any sort of timely fashion.
SIGH. One more thing to work out. Meanwhile I've got to finish planning a myriad of family scheduling details, wrap up a couple of loose ends with my mapmaker so that she can work while I'm gone, and check fifteen times that I've got my passport. (That's my borderline OCD kicking in. I'm always certain that my passport won't be there the next time I look.)
Also I have to make costumes. My second son has decided that he needs to dress up as a Dr. Seuss character. But not something easy like the Cat in the Hat or the Grinch. No, he's going to be the Pale Green Pants With Nobody Inside 'Em.
Sounds like a visit to the fabric store is in order.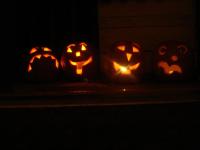 (Products of weekend pumpkin carving. Oldest to youngest children, left to right. Kind of reflects their personalities, yes?)