I've just spent three days wandering around French towns with my friend Elizabeth; we met up in Paris (here she is sprinting ahead of me for the Gare du Nord train station, something we did more than once)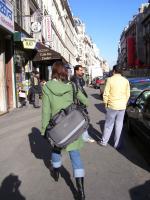 and went to the little town of Blois, on the Loire River.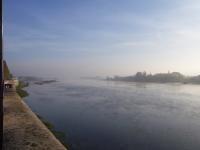 Joan of Arc assembled her army in Blois before they marched to lift the siege of Orleans. The cathedral at Blois juts right above the roofs of the houses; you can see it almost everywhere you go,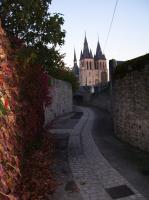 and we spent most of one afternoon walking around and soaking up the atmosphere. It's so much easier to write about a place once you've been there.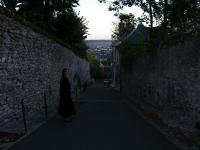 The next day we rented bikes and rode out to see the chateau at Chambord–a Renaissance estate built like a toy castle, in gigantic scale.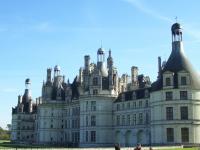 Chambord is surrounded by its own village and an enormous protected woodland. In which, apparently, Americans on bikes should beware. This is a warning sign I'd never seen before…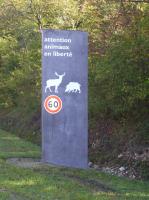 The last laugh was mine; I had marinated wild boar for lunch. It tastes like venison. (Thought I was going to say chicken, didn't you?)
The next morning we took the train to Rouen, closer to the coast. Rouen has one of the most glorious cathedrals in France; here it is early in the morning, with sea mist all around it.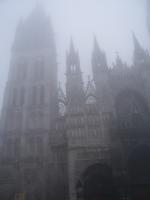 Rouen also has a Hundred Years' War connection; Joan of Arc was convicted of witchcraft here and burned in the town square. This was not the end of fire for Rouen; the city was almost decimated by bombing in World War II (the old square at the center of town is almost all that survives of ancient Rouen).
More soon; I reached Oxford by train tonight and intend to spend the next few days writing and walking, one of C. S. Lewis's recommended combinations. His favorite day, he once remarked, would be one in which he wrote all morning–"If a cup of tea could be brought to one at about eleven, so much the better," he added–and then walked for three hours in the afternoon. I'll give this a try and let you know shortly how it goes…