We're in the middle of renovating one of the outbuildings on the farm for me to use as an office. My mother inherited this property from her foster parents, who had a dirt-poor and imnmaculately tidy subsistence farm. Her foster mother raised chickens, so there are six or eight little outbuildings which were built in the early part of this century, intended for chicks and hens, still standing.
I had hoped we could save some the original structure of the chicken shed we're converting, but the wood was so spongy that you could drive a screwdriver straight through it. So we pulled the old frame down and built a new timber frame on the old foundation. My dad does timber frames as a hobby, so he's masterminding the project. My husband and the boys are providing some of the brute labor. So am I.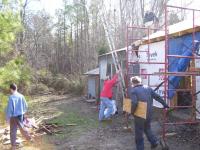 One of the original chicken houses is down at the end, behind the new structure.
Yesterday we all got up on the roof; we needed to get the insulation, OSB, and tar paper all down at one time. My twelve-year-old wielded the nail gun, Dad acted as foreman, Peter handed up the materials from the scaffolding, and I stuffed insulation between rafters and held OSB in place.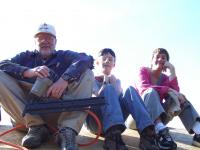 Dad, happy twelve-year old, me
Work that's definite, clear-cut, and out in the sun–and that someone else is masterminding. A good break while I wait for Norton's reaction to the manuscript.