I have been trying to organize all my source books, since I know that the whole process of revisions, checking endnotes, and generally cleaning up the manuscript will mean that I'll actually have to LOCATE a book if I need one. The problem is that over the last two-plus years of writing, I have bought and borrowed a phenomenal number of books. Last time I checked my faculty account at Swem (the William and Mary university library) I had (ahem) 274 books checked out.
All of those books, plus all of the king lists and time lines and notes to myself that I like to keep in view while writing, plus church stuff and all my dissertation notes and drafts, are in the little attic office that my father built for me four or five years ago. Currently, it looks like this.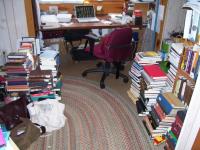 Note a few of the 274 books from Swem stacked on the floor.
This walk-between-the-book-columns existence is killing me. Right now I'm trying to alphabetize them all, but I don't have enough floor space, let along shelf space, to get even halfway through. So we've started turning one of the old chicken sheds on the farm into my new office. Evenyone has gotten into the habit of calling it the Chicken Shed Office, which I'm hoping doesn't stick.
Tomorrow, I'll post a picture of the Chicken Shed Office under construction.