In May, a writer's thoughts lightly turn to…airports. Yes, the spring speaking schedule is well underway. At the moment I'm sitting in the Richmond airport, waiting to catch a Delta flight to Orlando. When I checked in, the desk agent said, "Thank you for flying Delta. Your plane is on time. We apologize ahead of time for any unexpected delays, problems, or cancellations." Which sounds like low expectations to me.
Anyway, I'm doing fewer conferences this year because I told the guys in the office NOT TO LET ME OVERBOOK THIS SPRING. I knew I would be doing dissertation duties right up until May 20 (which proved to be the case). Now, at last, it's REALLY all done. As witness me with my friend Marcia, who finished her computer science doctorate this year as well.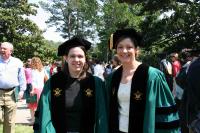 Yes, folks, there it is. The Great Green Doctoral Robe. I wore it as long as I possibly could after commencement, but it was too uncomfortable to sleep in.
Now I'm readying myself for a few weeks of broken work-time, since I'm travelling four out of the next five weekends. I've got education conferences in Florida and Pennsylvania, and I'm also attending BookExpo in New York next weekend (read about last year's BookExpo experience if you're curious). I've also been informed by Norton that I'm doing a book signing at the national American Library Association conference in Washington D.C. (that's June 23), and I'm already quite certain no one will show up. Maybe some nice people from Norton will talk to me while I kick my heels. (Read this as a veiled request to TELL YOUR LIBRARIAN TO COME TALK TO ME.)
The Florida convention, which starts tomorrow, is an education conference I usually enjoy, partly because it's always at an over-the-top resort hotel and partly because the conference schedule has a lot of workshops on…education. This may not seem worth mentioning. Unfortunately, many state home education conferences have been scheduling more and more workshops on everything BUT education and fewer and fewer that actually deal with TEACHING YOUR KIDS. I'm the first to agree that educating your kids overlaps with parenting, cooking, house cleaning, marriage relationships, emotional wellness, Bible study, and other parts of a full life, but over the past few years, I've seen a lot of conference schedules crammed with sessions which don't seem to serve the needs of parents who are there for the sake of their child's education.
Florida, however, has lots of good content scheduled, as does the Pennsylvania conference I'm doing in June and the Northern Virginia conference in July. Also it appears I'll be in California in September–more on this as soon as I have a few more details.