You may have noticed a dearth of posts over the last few weeks. I've been in a ridiculously focused writing phase: translation, I found it almost impossible to force myself to write anything that wasn't directly related to the projects at hand.
These writing phases generally hit about 3/4 way through a manuscript and completely disorder my life for a while. They don't always yield enormous results in terms of word count; in fact, considering the amount of time I've spent at the computer, the stack of printed pages has grown…not as much as I would like. But there's something else going on…some sort of mental sifting and reorganization, like a creative housecleaning effort that's going on almost at a subconscious level.
Anyway, I'm emerging from it and back to a semi-normal existence, which includes ditching writing on selected occasions in favor of messy time-consuming projects with kids. As proof, I offer the following photo-account of yesterdays's Kaleidoscope Cookie baking extravaganza.
Start with a sugar cookie dough; we use an old favorite recipe but any fairly sturdy sugar cookie dough will do.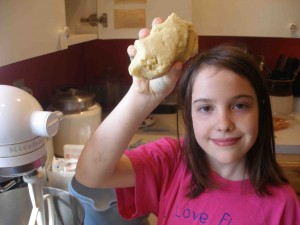 Divide the dough into four sections. Color each section with food coloring.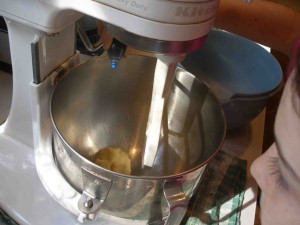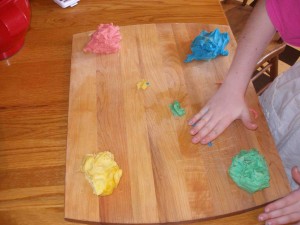 Roll out each ball of dough into a "snake."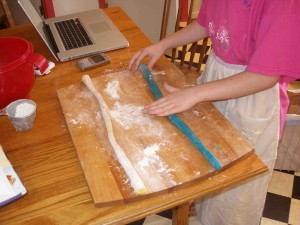 Stack the four dough "snakes" together, two on bottom and two on top.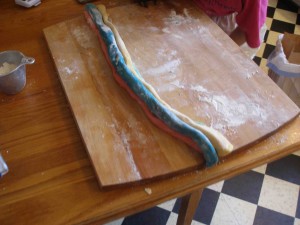 Spread colored sugar in even lines across a plate.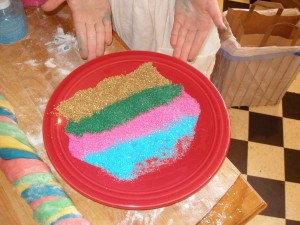 Slice the rolled dough log into cookies about 1/4 inch thick. Roll the edges of each cookie across the sugar lines.
Bake and admire. And, of course, eat.