We all live our lives in overlapping circles, like animated Venn diagrams. I've seen this best summed up in a few words by a couple of British writers: P. D. James, in Innocent Blood, describing one of her male characters as "like a hexagon; people only need to touch one side to feel an illusion of closeness"; Dorothy Sayers, in Gaudy Night, remarking that Harriet Vane "admired the strange nexus of interests that unites the male half of mankind into a close honeycomb of cells, each touching the other on one side only, and yet constituting a tough and closely adhering fabric."
Both, you'll notice, referring to men. But women, particularly women who are married, and have children, and have jobs, surely feel this as strongly…if not more so. Or so I assume. After all, when I'm dealing with my publisher/distributor in New York, I am one person; when I'm speaking to home educators, one person; when I'm with my kids, one person; when I am in my husband's circle, one person; when I'm speaking to academics, one person. Not "a different person," you'll note. I have no sense of being divided…only that, possibly, the people I meet in one circle might not, quite, comprehend exactly who I am when I'm in another.
Or maybe they do. Two nights a week, I haul a kid to an evening meeting and wait in town until they're done. Generally I go eat something at one of my favorite local restaurants and work on whatever I'm currently writing until pickup time arrives.
I've always imagined that, when I'm doing this, I'm in the world where I'm the Somewhat Important Professional Writer Considering the Perfect Word For That Sentence Over an Apertif. Apparently not. You see, my second son has recently started working at one of those favorite local restaurants–the very one where I had my Professional Writer Dinner tonight. (And he only works days, so he wasn't there as I was Professionally Writing.)
The result seems to be that my Mom Circle and my Professional Writer Having Dinner Circle have collided. As witness my check.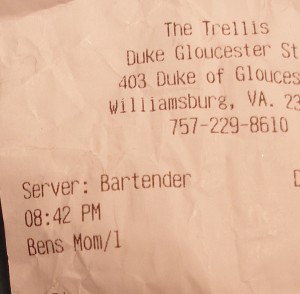 Yep, that's right. I'm Ben's Mom. Hi, there. Nice to meet you.