I flew into Sacramento on Thursday to give a series of workshops in Roseville, at the CCHE convention. And was greeted, as always, by a wonderful and enthusiastic group of Californians who sat in a rather dim room for very long hours and listened to everything I had to say.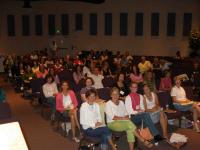 I took my second son with me, since he hasn't yet had a chance to meet his new cousin; Saturday night we flew from Sacramento up to Seattle to visit my brother and his family.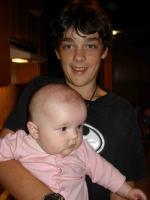 Ben and Dot (that's one healthy baby)
Today I've got a couple of meetings set up in Seattle, so I came into work with Bob and he let me use the office overlooking the water.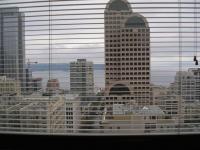 I have some writing to finish up , and then I'm going to wander around Seattle for a bit until Bob's ready to go home.
It's hard to imagine a place less like Charles City, Virginia, but I find my imagination working when I'm here. I've visited a lot of cities over the past eight or nine years of book-publicity, and there are plenty of cities that I enjoy, but wouldn't want to live in. But Seattle is different. I think I could live here.
Of course, we'd have to sell the hundred-acre farm in Virginia, which would mean that we could afford a two-bedroom condo here. Not sure I'm ready for that.
I have some new information on my academic publishing project, by the way–update coming soon!