Back home from the West Coast now, contemplating the last week of my sabbatical-from-bread-and-butter-writing and thinking about how to manage the fall tasks.
I'm feeling more rested than when I began the sabbatical, but I haven't yet made much progress in getting back to writing some fiction. There's a bit from Dorothy Sayers's mystery Gaudy Night that keeps coming back to me. Sayers's heroine Harriet Vane is a mystery novelist, which means that (like me) she writes for a living. Unlike me, she can go and hang out in Oxford for her sabbatical. Also she has an aristocratic admirer who's dying to marry her and shower her with money, but that's another subplot even further removed from my daily existence.
Anyway, she returns to Oxford and, for a time, spends her days reading and thinking about matters which have nothing to do with her daily work. Sayers writes that, in the silence, something comes "back to her that had lain dumb and dead ever since the old, innocent undergraduate days. The singing voice, stifled long ago by the presence of the struggle for existence…began to stammer a few uncertain notes. Great golden phrases, like the great carp from the depths of the pool, swam up out of her dreaming mind."
I like that metaphor. The singing voice, like a great golden fish: it darts away if you try to grasp it. You have to lure it in, waiting for it to flick into view and hover there.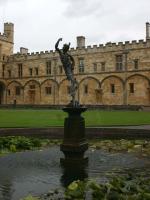 (The Mercury Fountain in Christ Church's Tom Quad in Oxford–I think Sayers had these particular carp in mind)
So how do you lure a fish?
When the boys were smaller, we used to take them down to my neighbor's pier on the Chickahominy so that they could fish off the sides. They adored this, but by the time they were done leaping up and down on the boards with joy, screaming with excitement, and hurling bits of bait into the water, the fish had prudently absented themselves. My daily routine has made it increasingly difficult to lure the singing voice; so much of what I do–not necessarily the writing itself, but all of the work that surrounds it–seems to act like a little boy's boots, driving the barely-seen imagination back into hiding.
For me, these are imagination-killers. There's a time and place for all of these things, but they ruin the fishing:
Watching TV
Email
Cruising the Internet
Reading Publisher's Weekly
Aerobics classes
Wandering around New York
And then there are the imagination lures:
Reading (almost anything)
Music (particularly classical, folk, sometimes soundtracks)
Drinking tea (I adore coffee, but it oils the gears of the money-making machine; it doesn't do much for my imagination)
Complete quiet and solitude
Coffeeshops where I don't know anyone
A restaurant meal alone
Walking or running by myself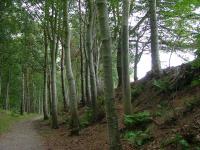 (A road I hiked in Scotland…a moment I'd like to return to)
At this particular moment, I'm reading King Lear and A. S. Byatt's The Virgin in the Garden,; listening to the Two Towers soundtrack, Bach fugues, and Susan Enan(I like "Bring on the Wonder" and "Monoplain"). And waiting.
I'm up for suggestions, particularly from you other creative types.