That's Northern Virginia, for you non-East Coasters. (Northern Virginia is its own little part of the world, quite different from southeastern Virginia where I live, so deserves its own particular abbreviation.) This weekend I spoke at the Northern Virginia Home Education Conference in Chantilly. The NoVa conference is only in its fourth year, but it offers an alternative to the larger and older state conference.
It was a very well-organized conference, despite the fact that there was NO CARPET ON THE FLOOR IN THE EXHIBIT HALL, which means that after standing for two days I had to down enough Advil to sear my liver. Concrete is death on your feet and legs.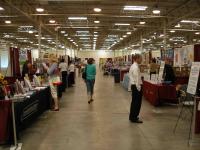 (I snappd this picture of one of the aisle before the hall before it opened to exhibitors.)
And my workshops were filled with very friendly listeners.
/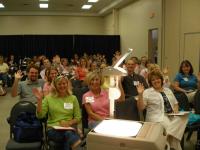 The NoVa conference is a smaller alternative to the larger and older state conference. In the last few years, more and more small home schooling organizations have sprung up, often to offer an alternative to state organizations which tend to be politically and socially conservative. Many home schoolers (including those who identify themselves as Christians) find themselves at odds with the politics of the older state organizations. And also at odds with the tendency of some of these organizations to insist that their politics are the only truly Christian politics around.
I think the multiplication of conferences is a healthy sign, proof of a vigorous movement that resists all forms of top-down control. The home school movement is remarkable as a grassroots phenomenon that has CONTINUED to be a grassroots phenomenon–and one largely directed and controlled by women.
Although you wouldn't know that from the lineup at some state conventions.
But I digress.
Anyway, I found the conference organizers charming and efficient, the attendees friendly, and the floor extremely hard. Now I'm home again, getting back to my grassroots life.