It's Saturday and I'm sitting in O'Hare after a visit to Naperville, where I spoke at a fundraiser for a classical school–a silent auction (very cool, I've never seen one before). Prizes were donated by companies (Disney passes, Southwest Airlines tickets) and individuals (everything from a football signed by Walter Payton to a costume of the Thing). The attendees wandered around and put their bids on slips of paper.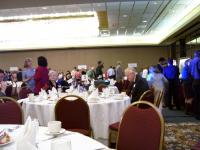 The guy who ended up with the football looked very happy, but I don't know who ended up with the Thing.
One of the prizes was breakfast this morning with me. It's an odd feeling to get auctioned off, and I can't imagine that my company at 7:30 on a Saturday morning at a hotel breakfast was worth whatever those nice people paid for it. However, the five winners were charming and intelligent and much more awake than I was.
I like the architechture in some of the newer sections of O'Hare: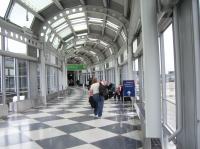 but I wish I weren't flying in one of those itty-bitty planes again. On my way out, the pilot suggested that three of us move to the back of the plane so that it would balance better. At which point all eight people on the plane practically stampeded backwards, with visions of this tiny metal tube tipping helplessly forward on takeoff.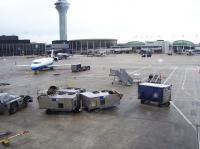 As soon as I took this photo of the plane, the gate attendant told me to watch out because the FAA has agents who wander around and nail people who take pictures of planes. Apparently plane-spotting (keeping a log of when particular planes take off and land) is a big airport pastime, especially with European tourists, but it makes the FAA nervous. Which leaves me with several questions…
1. What nefarious deed does the FAA imagine one might do with a photo of a plane?
2. How boring does your life need to be in order for you to develop a passion for logging when a commuter flight leaves O'Hare and arrives in Richmond?
3. Will I have to shift to the back on this flight so that it will stay balanced in flight?