Yes, I know it's been a while since I posted. I've been WORKING. A lot.
And contemplating.
From Thomas Merton's Seeds of Contemplation:
The requirements of a work to be done can be understood as the will of God. If I am supposed to hoe a garden or make a table, then I will be obeying God if I am true to the task I am performing. To do the work carefully and well, with love and respect for the nature of my task and with due attention to its purpose, is to unite myself to God's will in my work. In this way I become His instrument. He works through me. When I act as His instrument, my labour cannot become an obstacle to contemplation, even though it may temporarily so occupy my mind that I cannot engage in it while I am actually doing my job. Yet my work itself will purify and pacify my mind and dispose me for contemplation.
Unnatural, frantic, anxious work, work done under pressure of greed or fear or any other inordinate passion, cannot properly speaking be dedicated to God, because God never wills such work directly. He may permit that through no fault of our own we may have to work madly and distractedly, due to our sins, and to the sins of the society in which we live. In that case we must tolerate it and make the best of what we cannot avoid. But let us not be blind to the distinction betwen sound, healthy work and unnatural toil.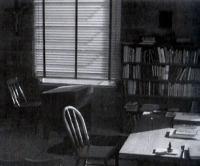 *
I struck the board, and cry'd, No more ;
I will abroad.
What ? shall I ever sigh and pine ?
My lines and life are free ; free as the road,
Loose as the winde, as large as store.
Shall I be still in suit ?
Have I no harvest but a thorn
To let me blood, and not restore
What I have lost with cordiall fruit ?
Sure there was wine,
Before my sighs did dry it : there was corn
Before my tears did drown it.
Is the yeare only lost to me ?
Have I no bays to crown it ?
No flowers, no garlands gay ? all blasted ?
All wasted ?
Not so, my heart : but there is fruit,
And thou hast hands.
Recover all thy sigh-blown age
On double pleasures : leave thy cold dispute
Of what is fit, and not forsake thy cage,
Thy rope of sands,
Which petty thoughts have made, and made to thee
Good cable, to enforce and draw,
And be thy law,
While thou didst wink and wouldst not see.
Away ; take heed :
I will abroad.
Call in thy death's head there : tie up thy fears.
He that forbears
To suit and serve his need,
Deserves his load.
But as I rav'd and grew more fierce and wild,
At every word,
Methought I heard one calling, Child :
And I reply'd, My Lord.
George Herbert, The Collar