Yes, you're all right;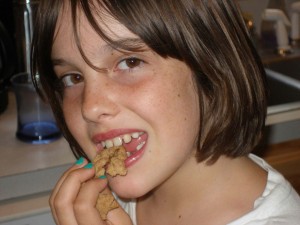 it was terribly unfair of me to mention breakfast cookies without giving you the recipe.
Cream together: 1/2 cup shortening, 3/4 cup sugar, 1 egg.

Add dry ingredients: 3/4 cup flour,
1 cup Raisin Bran,
1/2 cup oatmeal,
1/2 tsp soda,
1/2 tsp salt,
1 tsp cinnamon.

Mix well.

Stir in 1/2 cup raisins.

Bake 350 degrees until light brown; let them cool & get crispy before you eat them.
The recipe is from one of my favorite cookbooks, Marion Cunningham's Breakfast Book. I usually make a double batch so I have a fighting chance of getting some of them into the cookie jar after breakfast.