Some time ago I set up an Amazon Author Central account, after multiple emails from the Amazon Marketing Machine suggested that having an Amazon Author page would rocket my sales into the stratosphere. (At least that was implied.)
I wouldn't say that the Author page has necessarily changed my life, but it's a nice little feature. This week, though, it became something more. This week, Amazon informed me that through my Author Central account, I could now access BookScan numbers for all my books.
BookScan tracks, by its own account, about 75% of book sales through bookstores; it doesn't track direct from publisher sales, or sales made at Target, Sam's Club, and a couple of other outlets. Most authors don't have access to BookScan. I know how many of my books published by Peace Hill Press sell each week, because I look over the inventory. But I never have any idea how many copies of the Norton books are selling (or not, as the case may be) until I get my royalty statement a year after the fact.
Now, all I have to do is log into my Author Central account and click on the Sales Info tab. Instantly I can see how many copies total of all of my books were sold in the previous week–AND get a map telling me where those sales happened!
(Here's a sample map from the "About This" part of the site:)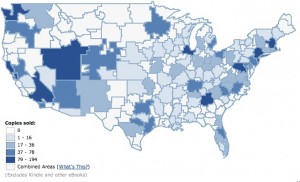 If I run my mouse over the map, it tells me exactly how many copies of my books were sold in the Dallas-Fort Worth area, or in Austin, or Salt Lake City, or Richmond, or Seattle the previous week. And I can get other maps for individual titles (of mine–I can't see other people's figures) and track their sales separately.
This is a good thing. I mean, information is useful, and publishers aren't generally great at providing it. On the other hand…
…hey! why is my sale total down from last week? ?
…why does Wichita apparently SHUN the History of the Medieval World, alone among my titles?
…why doesn't anyone in North Dakota buy my books? What's wrong with me, North Dakotans?
Ahem. Apparently my new access to BookScan is going to require me to develop an entire new set of mental disciplines.