This last week, I finished editing a manuscript that Peace Hill Press will be publishing next spring.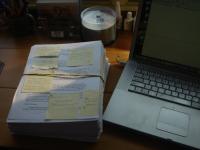 As you can see, I've put on my editorial hat and done to this MS what my editors have done to me–flagged every problem with a yellow sticky and returned it to the co-authors so that they can clean it up.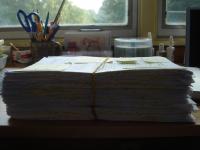 Anybody remember the photo of my ancient history manuscript, when it came back from the proofreaders?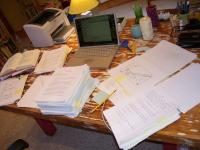 It's quite satisfying, in a very unsanctified way, to do to others what others have done to you.
Only a brief update this week because I'm getting ready to do something I haven't done, literally, for YEARS–I'm taking some time off work. The history of the ancient world is in production, the dissertation is in my advisor's hands, my desk is clear, and tomorrow is my birthday. I intend to sleep late and then lounge uselessly around the house. The day after that is my oldest son's birthday; he asked to go to New York, for his present, so at the end of the week he and I will be up seeing the Statue of Liberty (which I've never gone to see), the Empire State Building (which I have), and other such sights. Will report on the trip when we get back.