I've just finished giving six workshops in Modesto, California, at a very cheerful and well-run convention where every room was packed with people. Here are the Californians at my last workshop, happy to wave for the camera despite the fact that it was 5 PM on the second day of nonstop workshops,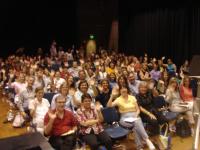 and dedicated to scouring the vendor hall for the very best books.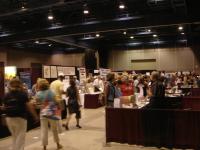 It's hard to believe that reading and reasoning are doomed, as so many apocalyptic cultural commentators would have us believe, when this many people turn out on a summer weekend to find books that will help them teach their children how to read and write and think.
I've never been to Modesto before. I like coming to the West Coast, not the least because I get to see my friends Diane (left), who sat with me at the Peace Hill Press booth and answered questions with unflagging enthusiasm and energy, and Kate (right), visiting the event as official representative of the Old Schoolhouse Magazine. At these conference, I meet some people who are appalled that I am trying to destroy the minds of American children, many people who are grateful for my attempts to help them educate their children, and a few who are (in Lucy Maud Montgomery's phrase) "kindred spirits." It's just sad when those kindred spirits live on the wrong coast.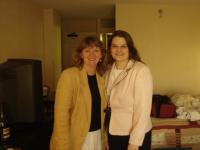 It's dry here, and windy–I'm not used to totally brown ground,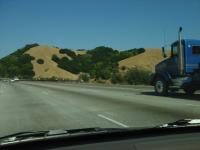 and back in Virginia, we don't have wind-power.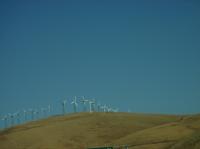 And although it's apparently been Mercury-hot here over the past week, the nights are cool. (Literally, not in the California-sense.) I woke up yesterday morning at 5 AM; it was 8 AM Virginia time, after all, and I have children, which means that I haven't slept past 7 AM in years. I decided I'd go running and was braced for 75-degree heat before dawn, and stepped outside to find that, before the sun comes up, it is almost COLD in California before dawn. So I went charging out and ran seven miles and got a huge blister. Cool air is a wonderful thing.
Anyway, I'm headed back to hot and humid Virginia at 4 AM tomorrow (on American Airlines, which does NOT provide you with a movie on a five-hour flight). I like cool air. But the place where you've grown up (been "born and bred," to use an old Jane Austen phrase) gets into your brain and skin. This is a marvelous place to visit, but I was brought up on the east coast; as much as you may appreciate the beauty of some other part of the country, the sight and smell and feel of the country where you grew up becomes part of the way you think; part of your idea of home.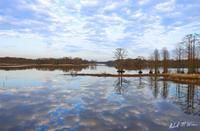 (The Chickahominy River, photo by my brother Bob,next to Peace Hill, where I grew up and still live.)