In Korea, that is, where I'll be doing a number of interviews to help promote the Korean translations of my books published by Theory & Praxis. Here's the view out of the hotel window…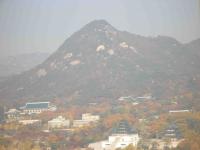 We're staying at the Somerset Palace Seoul, which caters to people who can't speak Korean, which is nice when you stagger in after 26 hours without sleep, having endured fourteen hours of flying. It's a beautiful place with a rooftop garden ideal for sitting and reading in.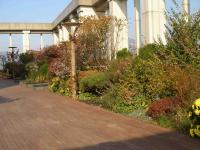 We haven't done much sightseeing yet; after flying in we had a lovely dinner with our hosts (who are both kind and patient with our total lack of comprehension) and then collapsed at the hotel. This morning I had two sets of interviews with journalists,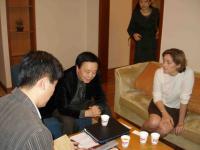 which were more enjoyable than this photo may make it look. The tension on my face is entirely from trying to pick up as much of the Korean conversation as possible. I'm finding that I can catch quite a bit, but speaking is an entirely different matter.
In any case: we'll be here for a week, so more updates soon