So I'll get back to the History of the Medieval World tomorrow…but in the meantime I've been down in New Orleans wallowing in family memories, along with my father and his first cousins.
It's been quite a wallow, too. My first-cousin-once-removed Ella, who can do anything, arranged for us to take a private tour of the family portraits now in the hands of the Louisiana State Museum. So we all ended up in the Cabildo, staring at my great-great-great-great grandmother's portrait. Her sister was once married to Jefferson Davis, which (apparently) is why my great-great-grandmother Lucy used to refer to him as Cousin Jeff.
Now that I've written that, I'm not sure I want to admit it publicly.
Anyway, here we are in front of the portrait (as always, click on the picture for a larger version).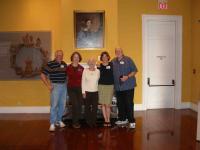 After we revived ourselves with coffee and beignets (in Virginia, we call it fried dough),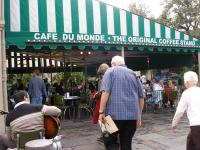 my father and I walked all around the nearby cemetery (above-ground because New Orleans is so wet that otherwise bodies float up out of the mud)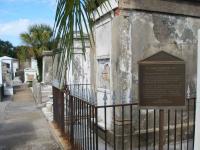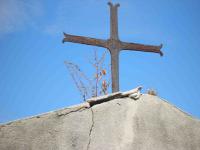 and also all around the French Quarter.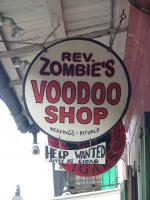 All of which reminds me that New Orleans is delightful and creepy and way, way weirder than Virginia.
But what stood out the most to me was sign after sign after sign for real estate,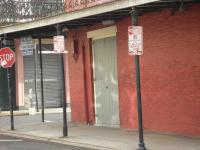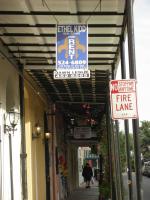 and the empty sidewalks.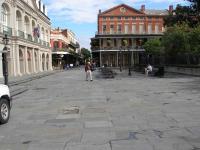 My father says that he's never seen it so deserted in October; it should be wall-to-wall people. "Nothin' to come back to here," our taxi driver told us. "Nothin' but crime. Nothin' to come back to, you know what I mean?"
On this street, where my father lived, there are FEMA trailers STILL in front of three out of four houses (the white lines on the trees are the high-water marks) ,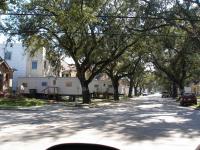 and the spray-painted notices from the hurricane rescue are STILL on the foundations of houses.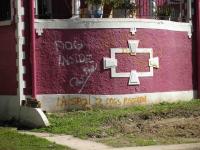 Where did all that disaster relief money go?
Okay, I'm sure there are several long and complicated answers to that, but…I've just spent three days eating great food, listening to scandalous family stories…and seeing street after street of deserted, crumbling houses, shuttered stores, weed-patched roads, empty yards.