First mention of the History of the Medieval World in a journal: this shout-out from Library Journal in a column called "Prepub Exploded: February 2010″:
Bauer, Susan Wise. The History of the Medieval World: From the Conversion of Constantine to the First Crusade. Norton. Feb. 2010. 640p. ISBN 978-0-393-05975-5. $35.
Bauer writes accessibly, and her History of the Ancient World was recommended by LJ's reviewer "for all libraries needing a good primer," so I am inclined to plump for this account of an all-important era.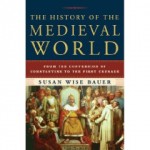 and this from World Magazine about the Story of the World series:
Spotlight |
Susan Wise Bauer's four-volume series, The Story of the World: History for the Classical Child (Peace Hill Press, 2005-2007), provides a thorough overview of world history for elementary-school-aged children. Bauer packs the short, manageable chapters with information—but not so much as to overwhelm young readers. The series does not specifically focus on a Christian approach to history, but the books treat the Bible as an important source of historical information; for example, Nebuchadnezzar's madness plays as prominent a role as Caesar's crossing of the Rubicon.

Bauer does not skirt the sometimes unpleasant facts of history. For instance, her chapter on the Crusades presents examples of both Islamic and Christian aggression in a fair-minded way. Overall, she leaves editorial comments aside and focuses on story-telling, thereby laying a solid foundation for the budding historian. Students who finish this series can move on to Bauer's recently published History of the Ancient World for adult readers—with more volumes to come.

—Henry Bleattler is a professor in New York City