Today was my first back-at-work day since the holidays; we took the week of New Year's as a holiday, and Monday is our family day, so Tuesday is my Monday as far as work goes.
So I thought I'd start the year out right by sharing part of my to-do list with you. Along with some commentary.
1. Writing tasks
History of the Medieval World: finish maps.
My goal is to have every place that I mention clearly labelled on a map in the same chapter. It drives me crazy when I'm reading a history and can't look at a picture of the landscape. I always wondered why most histories are short on maps, until I started doing them myself. They're incredibly time consuming, and they make my brain hurt. For this finished map: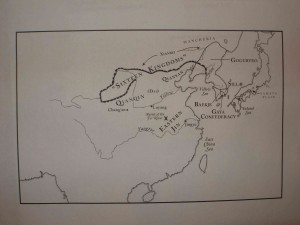 I consulted an assortment of maps found in a number of different books,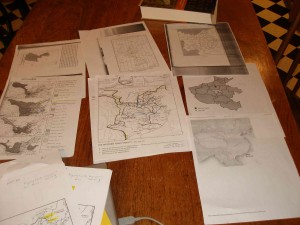 and drew a rough draft, which my collaborator Sarah Park then turned into an actual (readable) map. But neither one of us could find a map, in any of our books, which gave us the location of the Battle of the Fei River (even though it is described repeatedly as one of the "greatest battles in Chinese history"). As the Fei River is now dry, it wasn't on any maps either. Finally I found a reference work that described the Fei as a tributary of an existing river, and with this as a starting place I used the descriptions of the battle to pinpoint the most likely place.
This sort of detective work is actually fun, but it just takes time, time, time. Also it can't be done until the book is in final draft form, so we inevitably end up doing it on a tighter deadline than we'd like.
History of the Medieval World: finish timelines
History of the Medieval World: finalize illustrations
I haven't yet decided what illustrations will make the story come alive. I LOVE sorting through illustrations, though, so I'm looking forward to this.
Finish Writing With Ease Workbook 3
Finish Writing With Ease Workbook 4
Writing out the lesson plans for these is a little tedious, but browsing through all the possible children's books that I'll use for base text is great fun.
Begin outline for History of the Renaissance
Er…not going to think about that one yet.
Start working on a fiction project before you forget how.
2. Farm jobs
Put new hardware on the barn doors
I love my draft horse, but he's hard on doors. And gates. And fences generally. He just LEANS, and over they go.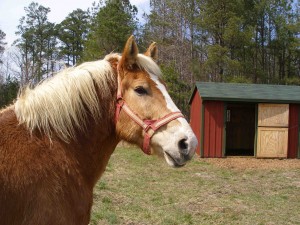 Harrow pasture and replant
The Virginia Department of Agriculture says that one acre per horse is recommended for pasture. I have two horses and a pony on three acres, and they have eaten it down to dirt. Next month, they all get shut into the corral so that I can replant the pasture.
Get the farm surveyed.
Two of the property lines on this farm have NEVER been surveyed, a fact I discovered when my neighbor decided to walk his side of the line and pointed out that it ran right down the middle of one of our farm roads. I asked for some clarification, and got something like, "Well, the property line runs from that oak tree that came down in the hurricane of '72 right down to the big rock that used to be right across from the east foundation block of the old barn."
Ah.
Note to self: CALL SURVEYOR. SOON.
3. General horrible tasks
Answer the 187 unanswered personal emails sitting in email box.
Actually don't want to think too much about that one either.
Figure out why Blackberry does not work in U.K., as promised by salesperson.
Since this involves calling Verizon customer service, I've been putting it off as long as possible.
Sort through unsolicited submissions to Peace Hill Press.
If only, if ONLY people would send us stuff that we might actually publish. Note to aspiring writers: Check out the titles the publisher is already putting out. Chances are, they're going to keep on doing the same sort of thing.
We have gotten a raft of totally inappropriate submissions (No, we're probably not going to publish your magic-realism-basketball novel), and recently I figured out why. For some completely unknown reason (it probably involves a bored intern who had nothing else to do), Writer's Digest listed Peace Hill Press as one of the "Hot Markets of 2008"–in other words, one of the best places for new writers to submit their work.
How on EARTH did this happen? We've never even published a title that we didn't first solicit, and (as any aspiring writer who took the time to visit our website could tell), most of our titles were written by my mother or by me. I wouldn't call that a hot market.
Second note to aspiring writers: Do your own research. (You might also consider cancelling your Writer's Digest subscription and spend the money on chocolate or babysitting or paper instead.)
Revamp workshop descriptions for spring conferences.
This isn't too horrible a task, but I'm kind of stuck on it. What new workshops should I offer at conferences this year? I'm open to suggestions.
I won't bore you with the rest of my to-do list ("Clean out clothes closet." "Update high school transcripts for kids." "Take down Christmas lights before June." "Buy castle in Spain and move there immediately.").
Update tomorrow on the first of my 52nd books, which I found a little disappointing…