Normally we do school with the kids Tuesday-Saturday (and take Monday off), but Saturday was so beautiful that we went and had a picnic in the woods instead. So here we are, fancy-free and sitting on a tree…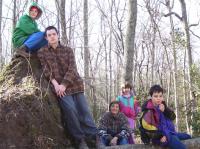 A nice morning. When I came back, though, there was an email waiting for me: "The marketing committee would be grateful if you could complete this and send it back." Ah, the Author Questionnaire. It comes with every book, and it's essential to the marketing process–you know, better than anyone else, who might be interested in your book, so you have to provide the publicity department with as much information as possible. But that doesn't mean that the questionnaire is fun. If you'd like to see what I mean, I'm pasting the content of it in below. Kind of long, but I thought some of you might be interested.
And by the way, thanks for all the great cover suggestions below. I'm compiling an email for Norton–and I'll post a picture of the cover when it's settled. (And hey, I'll take publicity ideas too!)
Author's Questionnaire
The enclosed questionnaire is a valuable resource for everyone involved in the editing, production, marketing, and sale of your book. It is a way for you to offer ideas and suggestions for every stage of the book's development. Please fill out the questionnaire thoughtfully and completely and submit it when you turn in your manuscript. Use separate sheets of paper if necessary.
Part I: Editorial and Production
Editorial
1. Exact title
2. Exact subtitle (if any)
3. Author's name (exact style wanted)
4. Academic degrees or professional title (please indicate if you wish these to be used on the jacket of the book and anywhere else your name appears)
5. Your editor's name
6. In light of the definition of libel that follows, there (is) (is not) a remote chance that legal readings should be given to the manuscript.
Libel: "Any statement or representation tending to expose another to public hatred, contempt, or ridicule."
Please write in detail if you have any questions on this point. If your book is fiction, it is particularly important for you to let us know the extent to which fictional characters are based upon real people, and whether any organizations, companies, stores, restaurants, etc., mentioned in your book are real.
7. The book will contain the following material, all of which is included with the manuscript herewith. (Cross out items that do not apply.)
List of your previous publications
Dedication
Table of Contents
Illustrations
Copy for captions and credits
List of illustrations
Foreword
Introduction
Preface
Footnotes
Endnotes
Appendix
Bibliography
8. The book (will) (will not) contain a separate page of Acknowledgments.
9. The book (will) (will not) contain an index, to be prepared by the Publisher and charged to my Royalty Account at one-half actual cost.
10. Spelling and styling are to follow Webster's Third New International Dictionary and The Chicago Manual of Style. (If you have objections to either of these, please state your preferences in detail separately.)
11. The book will contain halftone illustrations; line drawings; charts; other illustrative material as follows:
The above illustrations with copy for captions and credits (have been delivered) (will be delivered by ), together with letters of permission where needed.
12. The book (does not) (does) contain quotations, illustrations, charts, tables, letters, or other matter reprinted from other sources. If your book does contain such material, please attach letters authorizing the use of quoted material, together with a list giving manuscript page references.
Design and Format
1. Did you type your book on a computer? If yes, can you supply disks? What program did you use?
2. Are there any recent books (whether published by Norton or by others) that are particularly attractive to you in design and format?
3. Are there any typefaces you do not like?
4. Have you any preferences as to binding color?
Part II: Marketing, Sales, and Publicity
The information requested here will help us to prepare catalog and jacket copy as well as sales bulletins for booksellers, librarians, and our own sales representatives; and to publicize the book to book review editors, magazine editors, and TV and radio producers.
About Your Book
1. Please describe your book in no more than 250 words. We will refer to this description as the basis for your catalog and jacket copy, so please write accordingly.
2. Please describe your book in 15–20 words or fewer:
3. What were the circumstances that led to the writing of this book?
4. What books do you view as comparable to yours?
5. Are there any current or forthcoming books that might be perceived as competitors? Please list them, and note briefly how your book is different.
6. Do you have reasons for wanting a particular publication date (e.g., the anniversary of an event, a time of year book buyers and/or media would be especially interested in the topic of your book, etc.)? Keep in mind that the average book takes ten months from final manuscript to publication date.
Personal Information
Please specify if you wish us to regard any of this information as confidential.
1. Contact information
Name:
Home address:
Telephone number:
Office address:
Office telephone number:
Fax number:
Email address:
If you have a Web site, please give the URL:
2. Date and place of birth:
3. Citizenship:
4. Social Security Number:
5. Are you married? To whom? Do you have children?
6. What is your chief occupation? Please give your title and a brief description of your job.
7. What are your other areas of interest or study? Hobbies?
8. Please list all schools, colleges, universities, etc., attended. Include dates of graduation, degrees, honors, grants, or awards received.
9. Please mention cities and states where you have lived. Indicate dates of residence.
10. Mention the names and locations of bookstores where you are known; the bookstores where you buy books.
11. Please list your other books, mentioning publisher(s), dates of publication, and sales. Were any of these books selected by book clubs? reprinted in paperback editions? made into movies? serialized in magazines?
Special Sales
Does your book have special sales potential? Please supply us with names and addresses and, wherever possible, a contact at any or all of the following:
1. Special interest groups, associations, societies, or organizations that might make bulk purchases of your book.
2. Specific industries, firms, or corporations that might find your book useful as a corporate gift, sales aid, or educational tool.
3. Mail-order catalogs and/or Internet sites (excluding major booksellers like Amazon.com) that specialize in the subject.
Marketing and Publicity
1. Please list names and addresses of people whose comments on your book would be influential in promoting sales. Include critics, commentators, booksellers, other authors—any prominent individuals who you think would be interested in giving comments on your book that could be used to promote sales.
2. Do you intend to give lectures? Do you have a lecture agent? Please be sure to give us the earliest possible information about dates and places, giving us notice at least three weeks in advance of each event to be certain that your book will be available at the location of your event and at nearby stores.
3. Please list any specialized magazines, journals, Web sites, or newsletters that focus on the subject area addressed in your book. Include addresses and phone numbers if you have them. Have any of them expressed interest in your work?
4. Are there newspaper or magazine columnists who write about subjects similar to that of your book? Please list names, publications, and addresses if you have them.
5. Are you willing to appear on TV or radio if the opportunity arises? If so, please list any television or radio programs that focus on the subject area addressed in your book or that have expressed interest in having you as a guest.
6. Have you ever been interviewed on television or radio? If yes, please list show names and, if possible, years of appearance. Are tapes of your appearances available?
7. Please list any friends or contacts you have in the print, broadcast, or online media, along with their addresses and phone, fax, or email addresses if you have them.
8. What are your hometown newspapers and alumni publications?
9. What are your hometown TV and radio interview shows?
Author Photograph
When you return this questionnaire please send along a glossy print of a recent photograph of yourself. This photo may appear in the catalog and/or on the book jacket, and may be used for publicity efforts and in advertising. If it is a professional photo, be sure the photographer is willing to let it be reproduced and that you have cleared any permission fee required to use the photo on the book jacket and for promotion for our edition and subsidiary editions. Supply the photographer's name for credit line purposes.
Part III: Subsidiary and Foreign Rights
Subsidiary Rights
1. Do you have an agent? If so, who?
3. Have you any recommendations regarding book clubs?
4. Have you any recommendations regarding paperback reprints?
5. If time permits (and usually it will), we will consult you before concluding any arrangement for first serial, dramatic, motion picture, radio, or television rights. In the meantime we welcome any suggestions you care to make and information about any sales of these rights in your other books.
British Publication
Do not fill this in if your agent controls these rights.
1. Have you had other books published in Great Britain? If so, by whom, and with what success?
2. If you have preferences among British publishers, please list them in descending order.
3. If you think your book will have a particular appeal in England, please tell us why.
Translations
Do not fill this in if your agent controls these rights
1. Please list the foreign-language editions of your previous works, giving the publisher, royalty and advance terms where possible, as well as the date of contract.
2. Do you have comments on the foregoing or suggestions for foreign-language editions of the present work?