Christmas has come and gone, and it was a good one–although we'll be living with the aftershocks for quite some time.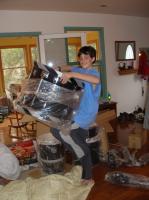 Between Christmas and New Year's, I finished up all those index queries and sent them back. (Hurrah.) Then, on New Year's Eve, Peter and I pursued our traditional course of watching the Twilight Zone marathon until 12:01 and passing out with exhaustion immediately thereafter.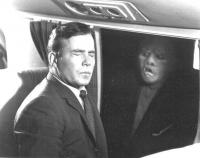 The next morning I poured a cup of coffee and got started on my usual January 1 activity: taking stock of what I need to write over the next year, and figuring out how that's going to fit into the rest of my life. (Or vice versa.)
I pick a new method of balancing out work and life every year–which makes sense, since the kids' needs change as they grow, and since I have a different constellation of writing responsibilities in 2007 than I had in 2006. It's always a challenge to carve out significant blocks of uninterrupted sit-and-write time. One of the paradoxes of a writing career is this: the more successful you become, the more your working time fills up with non-writing tasks (interviews, travel, correspondence, revisions and proofreading…everything I've been chronicling in this blog). I had a whole lot of non-writing tasks in 2006. But for 2007, I need to UNDERSTAND the Middle Ages. And not just what happened. I need to find a framework, a story that that has a beginning, a middle, and an end, a story that makes sense.
That's going to involve a whole lot of sitting and writing.
So this year I've borrowed a technique from a French figure skater who's made a huge successful comeback: I'm color-coding my weeks. I have 35 working hours in my week (where I dig them out from is another blog post). Of those hours, I need to spend twenty per week doing nothing but concentrated writing. Another five should be devoted to reading and taking notes on books which aren't directly related to my writing, but will help me refill the creative well.
Actually SEEING those chunks of time in different colors is quite an eye-opener. Once I started color-coding my weeks (working hours in red, reading hours in purple…and so on) I realized three things.
1) I haven't been spending nearly 20 hours per week writing. If I can rearrange to do this, I'll be able to get through the Middle Ages before my deadline.
2) It is darn tough to protect those 20 hours. I'm going to be shoving a lot of those non-writing tasks into fewer hours. I have a feeling I'm going to find myself with some unusually late nights or early mornings every couple of weeks.
3) I haven't been reading enough. Ironic, for a writer. But for the last year, I've been completely absorbed in books that I'm USING, rather than books that I'm UNDERSTANDING. Reading for understanding is a very different sort of mental exercise.
As a result of this, I've restocked my bedside table with some new fiction (J. M. Coetzee, Margaret Atwood, Joan London). I've started reading through Peter Brown's study of power and persuasion in the late Roman empire. And I've turned down a couple of speaking opportunities.
I'll let you know how the first color-coded week goes.