Today's my birthday. I will get back to writing about writing in the next couple of days, but today I get to drink coffee, eat whatever I want, and open presents. My favorite thus far is from Christopher: a doll with pins to shove into it, part of a coping-with-stress kit ("An anger management program you can really stick with!")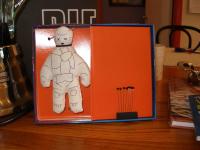 And my favorite page in the accompanying booklet: a curse to put on your critics.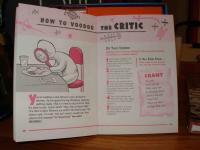 I thought I might post just a few old photos today, since I'm 39 (for real) and it seems like a good day to mull over the past. If you're interested, scroll down and watch the children multiply while my hair grows shorter.
Circa 1970: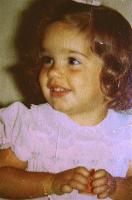 Two impossibly young people getting married in 1990: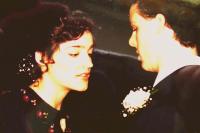 Christopher's first Christmas: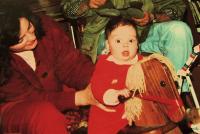 Here I am with baby Ben, son number #2; he's happy, I've got the flu.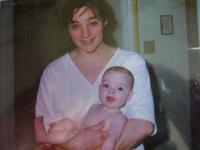 OK, promise to be nice over this one. This is the first advance I ever got, for my very first book, when we only had two children. And yes, that IS a denim jumper. Enjoy your chuckle.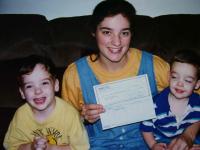 Son #3, about a week old: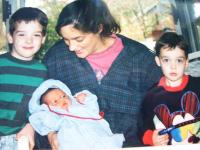 And then we added Emily. I'm not in this picture, but I'm posting it because it's my favorite. She's about three here; she put baby carrots in a sock, tied it closed, and carried it around for days. No, we don't know why.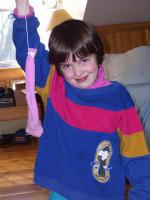 Four children and five books later, here are Pete and I, going off to someone else's wedding and looking considerably more mature.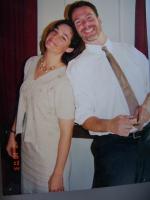 And here I am, buried in children.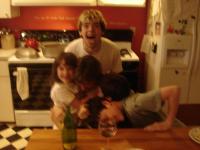 That's it for the self-indulgent photos. Except for this one: the birthday man, responsible for the fact that I get to have a wonderful day. (Also responsible for most of the presents, if Emily's "I didn't know I got you that!" upon my unwrapping her present is any indicator.)