Two days in Rome turned out to be just about right. Venice was right up Dan's alley; it was fun and imaginative and filled with tiny crooked paths. Rome was huge and crowded and noisy and filled with homicidal drivers. More to the point, when you're thirteen, you have a limited capacity for ruins.
He was fascinated by the Colosseum, and we spent our entire first morning there.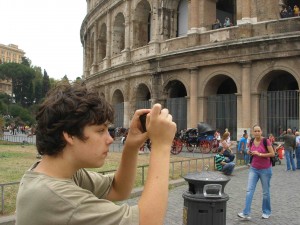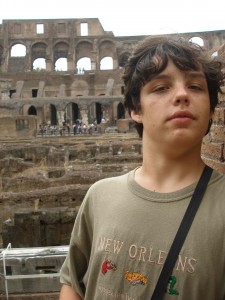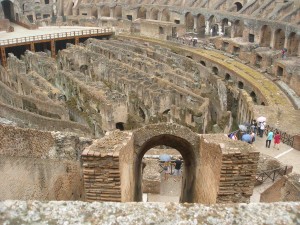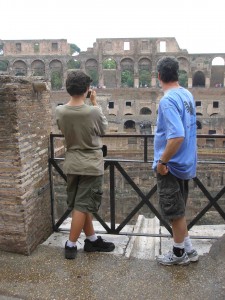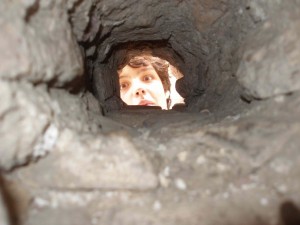 After that we'd planned to go see the Roman Forum and the Palatine Hill, but by the time we'd finished lunch he was sagging. And Pete and I were already in heaps on the ground. What with the travelling and the jet lag and the walking on stone all morning (plus our advancing ages), we were just plain done.
So we jettisoned our plan to do the Colosseum, the Forum and the Palatine Hill all on the same day and went back to the apartment, where we slept, played cards, watched movies, and ate a lot of cookies. This turned out to be a good plan.
We went out the next morning to tackle the Forum and discovered that there was a big public celebration going on; the Via dei Fori Imperiali, the main road leading into the historic center of Rome, was closed, and troops of people were marching along it. Turns out that Sept. 19 was the 140 anniversary of the Capital, and apparently the Roman commune celebrates it by joining up into groups with banners, wearing hats with black feathers, and parading. Some of the groups were in uniform, but others were just in street clothes. And the feathered hats, of course.
(Don't ask me, I haven't gotten up to this particular phenomenon in the History of the Whole World yet.)
Then we visited the Forum.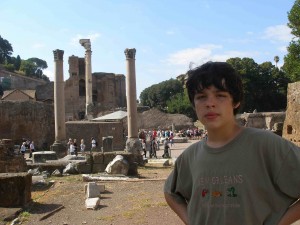 This is when ruin fatigue started to kick in, followed shortly thereafter by general sightseeing malaise.
So after another good lunch, we decided to ditch the Vatican and retire to our apartment for another round of game-playing and cookie-eating.
That was a difficult decision to make (I mean, we're in ROME, we could play games and eat cookies ANYWHERE, and what about the SISTINE CHAPEL?). By evening, though, I was convinced it had been the right move. The trip was partly about seeing historical sights, but also partly about simply spending time one-on-one with Dan, and also partly about teaching him how to navigate in a foreign country. Insisting on a breakneck sightseeing schedule would only have made him exhausted (and possibly cranky) and us exasperated. And if a kid is done seeing historical sights, he's done–there's nothing you can do to make him interested until his brain has rested, his muscles have recovered, and his stomach has been refilled.
Anyway, the game-and-cookie sessions were probably the most fun we've had so far on the trip.
Heading to Athens now, but in closing I have to add these pictures of our apartment. It was on a side street not far from the Palatine Hill, and it was gorgeous–high ceilings, wood floors, big windows with shutters. But to get into it you first went through an enormous wooden door with a big lock. This door gave onto a hallway blocked by a metal gate, which had to be opened with a key.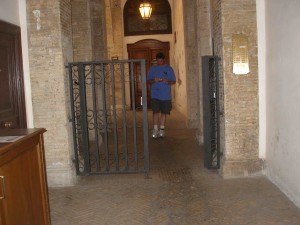 Then you went up three flights of stairs to find another metal gate, this one lined with glass and topped with spikes, which also had to be opened with a key.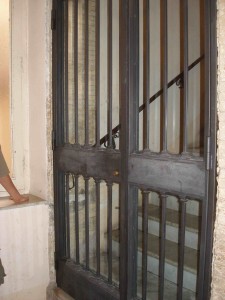 Then you went up three more flights of stairs before arriving at the apartment door itself, which had to be opened with yet another key,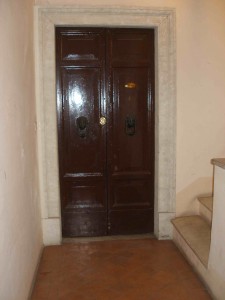 and which, on the inside, was reinforced with a lock and deadbolt system that had five separate deadbolts.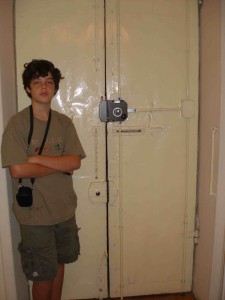 Dan said, "Hey, if the Visigoths attack, we should be fine!"