Many thanks for the blurb suggestions below; I made a list of the names and sent them along to my editor. I'll let you know whether we actually GET any raves for the back cover.
I don't mean to overdo the reader polls, but my brother the photographer has just sent along files of the publicity photos he took when I was out in Seattle, and I need to decide which one to send on to Norton. Here's the photo I've been using for the last few years: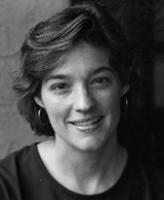 I like it, but it's time for an update (since I now have a number of additional age lines, thanks to the History of the Ancient World). Have you ever noticed how many writers use the same publicity photo for DECADES? It's as though they're trapped in a Star-Trekish time bubble that keeps them from aging (but only on the back cover of their books).
Anyway, here's option one: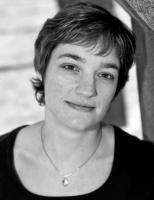 option two: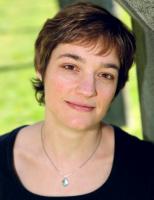 and option three: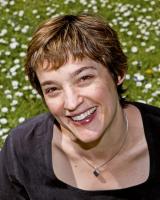 What do you think?
I'm plugging away on my dissertation, in the meantime, hoping to have a draft done by the end of July. Then I can send it off to my committee chair, celebrate by going to Modesto, and finally start on the History of the Medieval World in earnest.
Yesterday a Norton document arrived in the mail, via my agent: the History of the Ancient World took me longer than I'd estimated, so we've had to renegotiate the due dates for the next three books. Here's the relevant paragraph: "The delivery date as specificed in Article III is hereby extended to May 1st, 2008, for the 2nd volume of this 4-volume work; July 1, 2010 for the 3rd volume of this 4-volume work; and September 1, 2012 for the 4th volume of this 4-volume work." I need to sign this and send it back.
2012.
2012. 2012. 2012.
It sounds so…distant. How peculiar to be laying out your professional schedule so far in advance.