I've got eight more maps to draw, so I'm still just plugging along here. It occurs to me, a little late, that a blog about writing is going to consist of a lot of posts that say, "Well, I'm still working on it…"
This map work is so repetitious that I'm bribing myself in all sorts of ways to keep on with it. I get to eat chocolate every third map. I've been playing movies on my laptap (movies I don't have to pay much attention to, like What About Bob? and Galaxy Quest) to keep myself from going nuts. And listening to plenty of music. My Lord of the Rings soundtracks, all my Dave Matthews CDs, and my old REM collection are getting heavy use. And I've discovered a great new group: the Gabe Dixon Band. If you use iTunes, sample the tracks on their Live from the World Cafe disc.
Meanwhile, life continues on the home front. I took all the kids to Jamestown last week; I haven't been there in years. We went through the fort, spent at LEAST an hour listening to the weapons maker explain how all the different swords should be used, and climbed around the three ships anchored in the bay. Then we took the ferry over to Smithfield for lunch and fed the seagulls off the ferry's back gate.
I offered to buy Emily a Jamestown doll (awww! girl stuff) but she wanted a bow and arrows instead. She's currently pelting her brothers with them at every opportunity.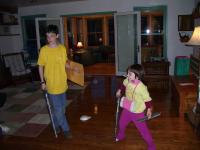 This is what happens when you have the girl LAST.
It's nineteen degrees today, and the boys have serious cabin fever. They finished their schoolwork early, and now the testosterone is in charge.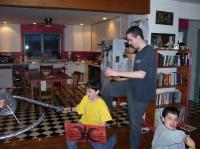 Although the Warrior Princess's estrogen doesn't seem to be kicking in, I must say.