I'm almost done with the maps (only fifteen left to draw), and I'm bracing myself to face the permissions nightmare. The Norton guidelines for clearing permissions say that every direct quote from an outside source must be cleared if it exceeds "fair use" guidelines, which are:
300 words or less of prose
Any amount under 300 words of prose if it equals more than 10% of the source work
2 lines or less of a long poem
of any work which is still under copyright. Works published before 1923 are in the public domain; so are works published between 1923-1963, if the copyright was not renewed (if the copyright WAS renewed, the term of copyright lasts 95 years from the date of first publication). For works published 1964-1967, the copyright lasts 95 years from date of first publication. Then there are lots of small exceptions. ("If a work was created but not published before 1978, the term of copyright is at least until December 31, 2002…" and so forth). Government documents are always public domain (not that I've had the opportunity to quote many of those). Photographs, illustrations, and drawings never fall under fair use guidelines.
Whew.
I really hate this part of the process. For one thing, a book this size has got so many quotes in it–and even those works which are ancient in origin I'm quoting in translation, so I have to get permission from the translator (and I can only quote Dryden's translation of Plutarch's Lives so often before I have to revert to a more modern version). My wonderful assistant Nancy (who has made my life orderly) went through the MS for me and made a chart of quotations which is 29 pages long. Here's the first page: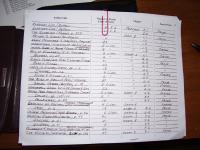 Now I'm going through the chart and totalling up words for each source and locating the publisher. Then Nancy will help me write each publisher (or fill out their online permission form) asking for the right to quote from the work in question. Here's a typical set of requirements for asking permissions, this one from HarperCollins (see http://www.harpercollins.com/templates.asp?page=permissions, if you're interested in the full document):
*
Requests to use material from HarperCollins Publishers General Books [adult trade U.S. publications] should include the following information:
Title and author of OUR BOOK AND title and author of YOUR BOOK.
Imprint of our book
Your publisher's name. You must have a publisher in order for your request to be considered.
Format [hardcover, softcover, etc.] Territory of distribution for your book [U.S., North America, world, etc.] Print run [total number of copies to be printed] Publication date of your book
Price of your book
Your complete postal address and e-mail address
Note: Incomplete requests cannot be considered. Include all information.
Requests may be made by writing to:
Permissions Department, 6th floor
HarperCollins Publishers
10 East 53 Street
New York, NY 10022
We cannot accept requests by telephone, fax, or to personal e-mail boxes. Please allow enough time for your request to be handled. It may take four to six weeks or more for a response, which will be sent by mail. Do not submit duplicate requests.
*
I realize this is probably the most boring blog post I've ever made, but there you have it; it's a boring process, one of those tasks that takes hours but doesn't FEEL as though you've accomplished anything. And the reward, of course, is that you get a lot of letters back saying, "Certainly you can quote from our book, as long as you shell out $300." Multiply that by 29 pages of permissions, and you're talking about a fair amount of money. Fortunately Norton pays the up-front costs and then deducts it from the royalty statements later on, so I don't have to come up with the cash–but it hurts plenty when that first royalty statement arrives.
Okay, so much for that. I promise that my NEXT post will deal with more thrilling matters.
Not that there's a huge amount of thrill connected with this particular stage of book-production…
Oh, and it's February, and I want to go somewhere warm. Or have something exciting happen. Or at least eat cookies unendingly with no thought of the consequences.