So this morning's task was to haul children to the dentist for the six-month checkup–a process that always seems to highlight my maternal inadequacies. This time around I did manage to remind everyone what grade they're in (one of the hidden pitfalls of home schooling; my children always say "Huh?" with not-so-intelligent looks when they're quizzed about grade level by the friendly office staff). I got everyone's teeth brushed within an hour or so of getting out the door, Emily was wearing shoes, Son #3 even had his shirt on the right way around. Unfortunately, the hygenist declined to show him how to floss his own teeth because his hands were so filthy.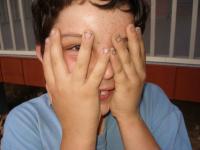 Oops. (Even worse, I looked at his hands when she told me this and thought, "You think THAT'S bad?" For a kid who'd spent the previous day planting beans, cleaning out bunny cages, and recovering a dead chicken from under the nesting boxes, he looked pretty darn good.)
Anyway, before I came home I had a call telling me that my diploma was ready to pick up. Graduation was a month ago, but even graduation ceremonies are provisional with the Ph.D. What you actually GET in that neat little ribbon-tied roll is a notice that says, "This is not a diploma. All requirements for graduation must be met before diplomas will be issued." It's a bit of a bummer when you actually unroll it.
Meanwhile, in the month after graduation, the Dean's office reviews all of your materials before giving the registrar the go-ahead to issue your diploma. I have (naturally) been waiting for something to go wrong. But my pessimism was unwarranted. (For once.) The call came, I went by Blow Memorial Hall as soon as the dental appointments were over, and there it was.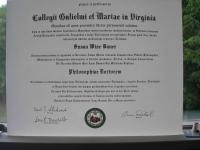 The family rejoiced (although they weren't allowed to touch it).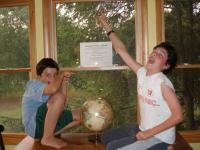 So that's that.
Next question: Just how long does it take to recover from a Ph.D.?
Since getting my dissertation turned in, I have
1. Watched all three seasons of The Office twice.
2. Reread the entire ouevre of Dick Francis from beginning to end.
3. Run about a zillion miles on deserted country roads while listening to the entire collected works of Sophie Kinsella. (I wish I were a shopaholic. If you're going to obsess over something, wouldn't it be more fun to obsess over shoes than over the exact ways in which Frankish kings were recognized as legitimate?)
4. Viewed the entire Lord of the Rings trilogy from beginning to end. The expanded DVD versions. With all the extras. The Two Towers, twice.
5. Worked my way from Mr. Midshipman Hornblower all the way up through the final book in the series. For about the twentieth time in my life.
6. Baked forty batches of cookies. (Approximation.)
7. Ate a significant portion of those cookies all on my own. (See #3, above. This is why boosting my average mileage-per-run from five to nine or ten miles has NOT dropped me a dress size.)
8. Sat and stared at the thousand pages of formless, shapeless medieval history on the left side of my desk.
9. Moved my chair to the other side of my desk and sat some more and stared at the manuscript of my revised dissertation, which is almost but not quite ready to send off to the university press which might publish it.
10. Read the first page of about a dozen new novels which, somewhere deep down, I really want to finish.
11. Read the flap copy of five or six really fascinating new history books which, even deeper down, I really want to start.
Since getting my dissertation turned in, I have NOT
1. Read anything new.
2. Written anything worth reading.
3. Felt particularly worried about this. In fact I told my editor, with perfect truth, that I wasn't the slightest bit concerned about getting the History of the Medieval World done by the deadline.
I'm still sitting in my chair in front of my desk during my working hours. Eventually, I guess, brain cells will begin to function again rather than oozing out of my ears.
Well, off to do a signing at the American Library Association conference this weekend. Don't forget to tell your librarian to come say hello to me. Will post pictures early next week.