This is it, folks! Publication day! (Balloons and streamers?….Hello?…..Hello???)
Actually, with your first book you discover that "publication day" is a total bust. The real action happens before (prepub reviews) and after (general media reviews). The day itself goes by without any particular fanfare.
However, in honor of Publication Day, I'll post a new link to online chapters of the History of the Ancient World (also linked in the right-hand sidebar). You can read a new interview with me here. The Barnes & Noble online editors have posted a kind review here. And I've just discovered that I have a Library Thing page here.
In other news: I've just gotten back from a three-day conference in Cincinnati, where I gave six workshops, signed a lot of books, and met quite a few very friendly readers–including this lovely bunch, who all got together in a nasty-colored-green conference room, on the second day of the conference, because they all post regularly on the Well-Trained Mind message boards.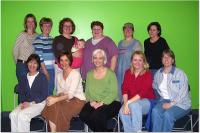 (See how much the green does for our complexions?) Thanks, Michelle, for the photo.
My next speaking engagement is at the Smithsonian on April 14–so if you're in the area and want a one-day course in ancient history, come on by.