This has nothing to do with either the History of the Medieval World or the Art of the Public Grovel.
Max (aka Magnus Maximus), the Belgian draft horse I bought a couple of weeks ago, has arrived.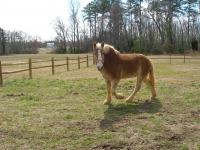 I grew up around horses and have ridden for most of my life (that includes a number of years riding jumpers, more years teaching for pocket money, and a weird summer when I galloped racehorses at a track in Ashland…that's a long story), but I haven't had a horse since I started having babies instead. They don't necessarily go together. But now everyone's old enough to help out, ride, and enjoy. So after months of saving up, fence-building, and planning, I bought Max. He's huge. But also very calm and friendly…kind of like an eighteen-hundred-pound puppy with feet like Frisbees.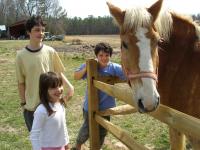 I'm hunting around now for one more horse…something smaller, for the beginners to ride, but still big enough for me to get on and school. That way the kids can go out riding together. Also Max will have company. He's never been stabled alone, and he's already broken out twice to go visit the neighbor's cows. We've reinforced all the weak spots we can find, but he's spending a lot of time staring out of the corner of the pasture at the woods (the cows are through the trees on the other side of the property line).