I've been travelling and speaking again–this week to an education conference in Kelowna, British Columbia, which has a beautiful lake and mountains. I don't get to go to Canada very often, and it's a treat to connect with my Canadian readers.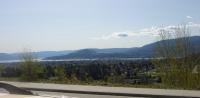 Kelowna, snapped from the road above my hotel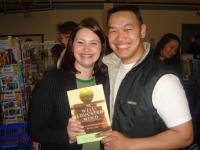 Happy Canadian readers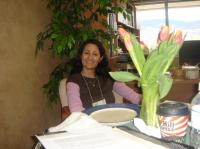 The hospitable and charming Sherri-Ann, who was assigned to be my "minder" for the conference.
The trip to the west coast gave me a chance to go to my brother's fortieth birthday party. Bob's old college friends came from Austin and DC and elsewhere for a surprise.
Apparently, when geeks relax, they take up digital photography.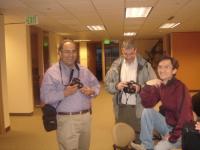 Bob (middle) and friends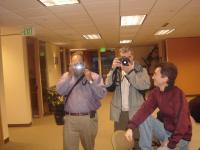 Bob (middle) and friends, continued
Good for me, though, as Bob took a bunch of photos for me this weekend; I'm hoping one will suit for my publicity photo. I'll post the contenders when he gets them onto a disk.
And next week, back to writing; I'm also expecting to get the copy-edited manuscript back any day now, and I'll put up an image as soon as it arrives.