Here it is. The edited manuscript, waiting for me to go through every page. By February 4.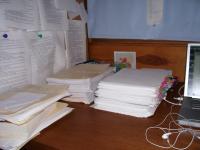 That's my table of contents, pinned on the board to the left, for my reference. And taped up in front of me is a list of synonyms for "war" (conflict, strife, quarrel, squabble, battle, fray, clash, skirmish, brawl, melee…) which I find myself in constant need of while editing. How many times can you say "War broke out" without needing a little variety?
Will report on my progress shortly.