I'm in one of those writing phases where none of my projects are even close to completion; I'd chronicle my daily routine for you, but it mostly consists of spending four hours figuring out where to locate the start of the Inquisition, or five hours tracking one of Philip IV's currency devaluements, or three hours working out what mistakes a middle-grade writer is likely to make on a particular writing assignment.
It's the kind of work that makes you long for a play-by-play commentary to make your days seem more eventful. Or at least theme music.
On the plus side, I have headcheese.
I should give you some background on this. When I was in my teens, we butchered our own hogs here on the farm and turned them into bacon, sausage, ham, and headcheese. What is headcheese, you might ask?
As I recall, the recipe went something like this:
Place the hog's head into a large pot and cover it with cold water. Boil it until the meat is tender.
(I think the head might have been brined first–soaked in salt water in the fridge for a day or so).

Remove the head and set aside.

Skim the liquid and bring to a boil until reduced.

Pick meat from hog's head and discard bones, skin, and cartilage.

Combine meat and reduced liquid with chopped onion, salt, and pepper.

Pour into loaf pans and chill.
When it was finished, you could cut it into big slices and eat it on bread. I remember this as being sort of like meat Jello, and I can't say I loved it. However, for some reason I told my husband all about how to make head cheese on our very first date.
Which clearly enchanted him.
Anyway, I haven't had head cheese for at least twenty years. Until last night, when I was at my favorite Williamsburg restaurant and the chef brought some out. And sent some home with me so that my husband, who's never actually tasted headcheese, could sample it.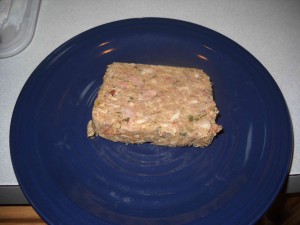 Either his headcheese recipe is a lot better than my grandmother's, or my taste buds have grown up, because it was scrumptious.
I haven't, unfortunately, convinced Pete to taste it yet. He's still thinking about it.