I've been in Seattle since Thursday, first speaking at the Washington education conference, and then spending a few days with my brother and sister-in-law and their baby. Daniel and Em came with me to this conference, since they've never met their cousin.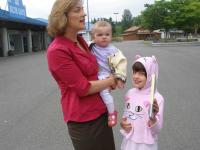 (Em is thinking about this whole another-girl-in-the-family thing)
The flight here was…long. Word to the wise: If you fly AirTran, there will be no food and no movies, not even on six-hour flights in business class. I can't believe I shelled out all that money to fly business class in exchange for two packs of Pepperidge Farm cookies and hours and hours of being ignored by the flight attendants. (Granted, the seat was nice and big, but after nine hours of entertaining two children on planes sans electronics or meals, AirTran has lost my business.)
The conference, which was in Puyallup, was a particularly friendly one (here's half of the room full of people who are getting ready to listen to my "What Is Classical Education" talk):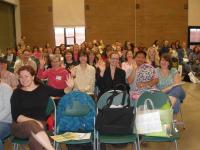 and I spent a lot of time at the book table afterwards, talking to parents. I'm continually impressed, whenever I go to these conferences, by the amount of dedication on view. So many parents, all putting tremendous effort into curriculum choices for their kinds, trying so hard to tailor education to each child's needs. This is the bright counterpoint to all those dark pronouncements about how America's kids can no longer read, write, or think. These conferences remind me that the desire to learn is still very much alive.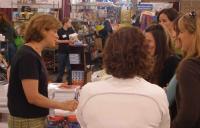 ADDENDUM:
Random thoughts about the Pacific Northwest….
1. The weather here is GREAT. Yeah, I know there's all the rain and clouds and stuff, but in Virginia it's been over 100 degrees for most of June so far, and here it is COOL. I would actually come and live here if I could figure out what to do with the farm in Virginia. I'll take clouds over sun and 95% humidity, thanks.
2. We've ended up eating out a lot on this trip. The food is great. The service, not so much. Is there some kind of northwest ethos out here that causes waiters to SAUNTER towards your table, and to forget that your order is, in fact, waiting to be picked up and brought to your table, until your hungry niece begins to hurl forks on the floor? The one constant in restaurants so far has been that it takes FOREVER to get the food. I'm ready to make a general statement about waitstaff in Seattle: They're not in a hurry. Ever.
3. When the cash machines ask you to confirm that you'll pay the $2 fee for making use of them, they don't give you the options of "I decline" and "I accept." They say, "No, thank you," and "Sure!" (This makes me giggle every time.)