There haven't been any updates to this blog because I've been on family vacation. Just to prove it, here are husband and second son playing chess: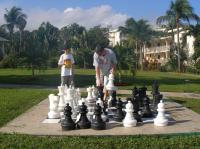 and just to prove that I WAS relaxing too, here I am: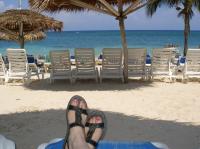 Now I'm back, with two things to worry about.
First, I still haven't found out just why the History of the Ancient World shipped so far before pub date. Wondering why this is an issue? Because new titles generally stay near the front of bookstores for two weeks or so before they get moved to an unobtrusive shelf somewhere very obscure. (You'll find The Well-Educated Mind shelved under Higher Education, usually. How often do you go digging for a book in Higher Education?) Those two weeks are the publicity department's chance to get the title in front of the public eye, through reviews, radio interviews, and so forth, so that when the reader walks into the store and sees the title, it rings a bell…and he picks it up.
This publicity push is SHORT. Usually, you get four to six weeks of attention from the publicity department, after which they've got to move on to the next book.
My publicity push hasn't gotten underway at all. By the time anything gets going, I'm afraid that the book will be well off the front tables. With any luck, this won't do anything horrible to the book's initial reception…but it's far from ideal, and at 3 AM (particularly after a fourteen-hour day of travelling), it seems catastrophic.
TAKING DEEP BREATHS. TRYING TO REMEMBER WARM SUNSHINE AND BLUE SEA.
Second, I'm defending my dissertation at 3 PM on March 15th–that's a week from today. This is supposed to be a GOOD thing…it means I'm a week away from the Ph.D….but at this point I simply can't believe that it'll go off without some major hitch. I found myself thinking this morning, "If I don't post anything about the defense, then when it fails, I won't have to admit it." So posting here is an act of faith.
WARM SUNSHINE.
BLUE SEA.
BREATHE IN, BREATHE OUT.
NO, NOT THAT FAST.
IT'S ALL GOING BLURRY…
Ahem.
More later…And by the way, if you'd like to send a photo of yourself holding the History of the Ancient World to [email protected], I'll post some of them here. Yes, I know this is silly, but my sister-in-law sent me one and I got a big kick out of it. Here are the people in my house, taking my instructions to "read the book!" VERY seriously indeed.