It's been part of our family plan to take each child on a birthday trip somewhere out of the U.S. sometime during the year after the year they turn thirteen. It's a rite of passage, but also a chance for us to spend a couple of weeks entirely alone with one of the kids.
Christopher chose Scotland and England, Ben chose Jamaica; Daniel asked for Italy. We planned a trip to Venice and Rome, and then Pete suggested adding a couple of days in Athens ("We'll practically BE there already, after all…").
I have ended up travelling quite a lot, in the last few years, but for some reason I have never seen the Mediterranean Sea. And I have a thing about water. Actually seeing water–the Tiber, the Thames, the Han River–somehow creates for me a real connection with the past. For one thing, water plays such a huge part in every single historic narrative I've written; people are always trying to find water, or trying to get across water, or fleeing from water. And although I know this is a bit of an illusion, water seems to be a constant. Yes, I know that the Tiber is not the same Tiber that Caesar saw–not the same water, of course, and not exactly the same watercourse. But it's still there, in more or less the same place, causing exactly the same problems and offering the same advantages as in centuries before. Going to Greece at the end of the trip means that I get to see the Mediterranean. How can I keep on writing world history without seeing the Mediterranean?
Anyway, the trip started on Sunday when we flew from Dulles to Paris, arriving early Monday morning, and spent the day wandering around the city; looking up at church spires,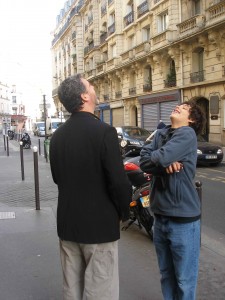 and visiting gardens.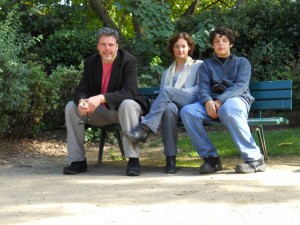 We toured Notre Dame,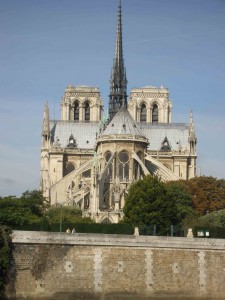 and Dan and I climbed up the Eiffel Tower as far as we could go using the steps (the elevator didn't look inviting.)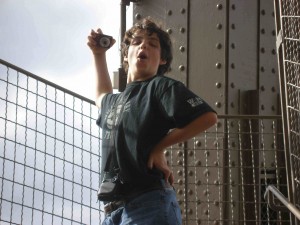 We took the overnight sleeper train from Paris to Venice on Monday night. It goes through the Alps, which would have been awesome if hadn't been, you know, DARK.
I was really looking forward to the sleeper train. Hey, it's the Orient Express, how literary and cool is that?
I suspect the Orient Express had a wee bit more space on it. We have three bunks, one above each other, with about fifteen inches of head room and two square feet of floor space. And those trains are LOUD. Not a soothing even rumble, more like RATTLE RATTLE swish swish CRAACK BOOOOM RATTLE swish BOOM CRAAACK—
You get the idea. Plus we'd slept on the plane Sunday night, so it was our second night of broken sleep.
We arrived at Venice Tuesday morning, kind of bleary eyed (and not having showered for forty-eight hours…ick…), but Venice temporarily revived us. We spent the morning (before we could check into our apartment) on a gondola ride. YES, I know that's SO touristy…but what fun to see the housefronts of Venice from the actual water.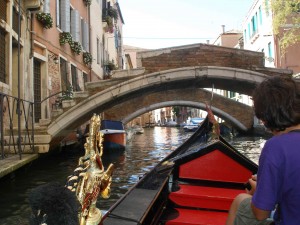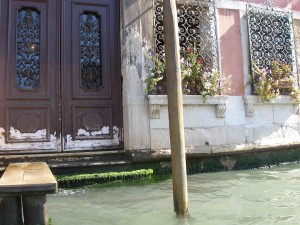 We walked all around the city, and ate squid ink pasta and giant octopus carpaccio and spiny crab spaghetti and gelato and enormous meringues.
And then we checked into our apartment and slept for twelve hours.
I'll post pictures of all sorts of sights later, but at the moment this is my favorite scene: