I'm just back from BookExpo, the yearly national convention for publishers and booksellers. The conference runs Thursday-Sunday, but as it was in DC this year–a short train ride from Richmond–I just went up Friday morning and came back Saturday in time to show up at the Charles City Clergy Conference All-Church Picnic. (Talk about moving from one world to another at warp speed.)
BookExpo is great for booklovers; you walk past rows and rows of new books in the entrance hall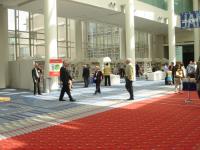 and go down escalators into this huge hall filled with publisher's trade booths, each displaying the newest titles.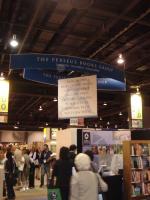 You can walk around and scoop up galleys and catalogs (and pens and tote bags and compasses and key rings and all sorts of other promotional gadgets) all day long.
From a writer's point of view, though, the hall is a daunting sight. All those books. All those THOUSANDS of books. And yours is a a little tiny SPLODGE in the enormous landscape.
Charlie and Peter went up ahead of time to set up the booth, and Tim came up Friday afternoon to help out as well.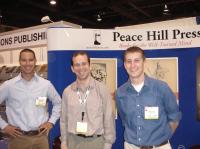 I showed up in time to wander around and enjoy myself while they did the hard work; here are Peter and Tim talking to a couple of booksellers about our titles,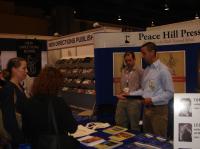 and here I am, getting ready to go out and collect galleys.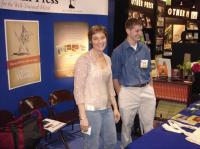 Our booth is within the huge space that W. W. Norton reserves for itself, since we're distributed by Norton.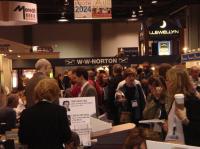 (That's Starling Lawrence to the left, the tall man with his back to the camera, and in the back of the crowd is Norton's great publicity director, Louise Brockett.)
I was struck again this year by just how kind the folks at Norton are to our little publishing enterprise. They answer all of our questions, and put the Peace Hill Press books in their catalog, and send booksellers down to talk to us. and direct their sales reps our way so that we can meet them. We would never be able to get into the chain stores without Norton's help. They do earn fees for distributing our books, but I don't think the fees are large enough to account for all that sheer niceness. Norton, in case you don't know, is one of the few largish American publishing houses which have not been absorbed by a conglomerate; the company is employee-owned, and it's obvious when you deal with them that you're not wrestling with some enormous faceless corporate entity which might as well be manufacturing doughnuts as books.
I went to the Norton author reception on Friday night, and got to see the big poster of my book cover up with the other new and upcoming releases–Michael Oren's Power, Faith, and Fantasy, which is about American involvement in the Middle East from the time of George Washington onwards; Sebastian Junger's A Death in Belmont; and Michael Lewis's The Blind Side. (I also got to meet all of these guys, which was great fun for a writer who lives in the middle of a soybean field.)
Afterwards, my longsuffering editor bought dinner for a whole group of us, including me, despite the fact that I criticized his handwriting on this very blog.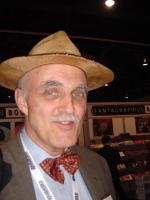 (Star, in a forgiving mood)