NO, NOT ME. (Just to get that out of the way.)
My brother and his wife welcomed their first baby over the weekend: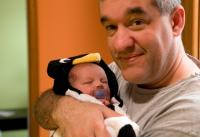 Bob and Baby
Eight pounds, thirteen ounces; for more pictures, go here. Her name is Dorothy Jean Rainbow Wise; Rainbow because we all nicknamed her Rainbow before she was born (as a joke) and it seems to have stuck. Anyway, they live in Seattle, where you can get away with that kind of thing.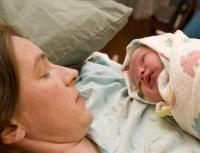 Heather and Dot
Book-related posts will resume shortly…