Over the weekend I finished the final revision of the ART OF THE PUBLIC GROVEL for Princeton University Press. Today I burned all the files onto a disk, printed it out (the subtitle is temporary, by the way–I've sent Princeton the list of suggestions you made on this blog),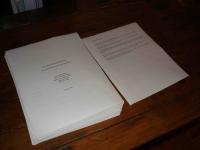 put it all into a box and got it ready for the UPS pickup.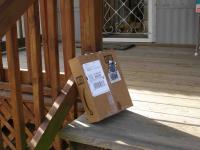 This is so much fun. One of the easiest jobs a writer has: Getting the manuscript ready for the UPS guy. And I don't get to do it all that often. (Like, once every two years.) So naturally I have to take pictures.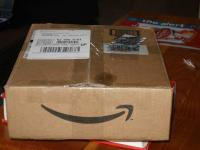 I think that the next step with this book will be going through the coypedited manuscript, but I'll keep you posted. (Also I'm guessing that some of the images I'm using for illustrations aren't high res enough, so I'll probably have to hunt down some better quality scans.)
And now back to the Middle Ages.
I'll leave you with the final table of contents. Hope it sounds interesting….
TABLE OF CONTENTS
Introduction: From Private to Public Confession
PART I: The Shift Toward Public Confession
Chapter One: Grover the Good, Belshazzar Blaine, and the Rapacious Woman
Chapter Two: In the Presence of the Elect (With the World Looking On)
Chapter Three: Aimee Semple McPherson and the Devil
Chapter Four : Confession Goes Public
Chapter Five: Ted Kennedy Misreads His Public
PART II: The Age of Public Confession
Chapter Six: Jimmy Carter, Traitor to the Cause
Chapter Seven: Jim Bakker Shoots His Allies
Chapter Eight: Jimmy Swaggart's Model Confession
Chapter Nine: Clinton and the Three Public Confessions
Chapter Ten: Unaware of Change
Conclusion: Predictions
Appendices: The Texts of the Confessions
Works Cited