In my post about best-laid plans, I said I was contemplating some new directions for my next writing project…and planning some other things as well.
Before I tell you about those "other things," I have to supply some historical background (which is appropriate enough, after all). So I'm going to give you a brief photo-essay for this preamble.
When my brother and sister and I were still toddlers, my father got out of the Navy and my parents moved back here, to the farm where my mother grew up. Back then, it was a chicken farm. Here are a few of the chickens, circa 1941. (For those of you who've followed my blog for a while, the nearer chicken house is now my office.)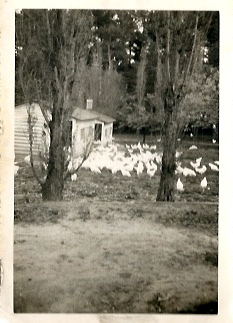 And here is my mother on the farm, circa 1941.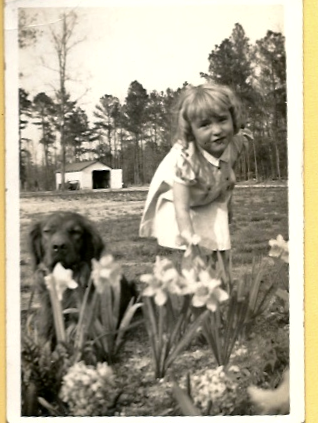 (Actually, this is my favorite picture from that decade, although it's not as clear. That's my mother on the left, in 1949, having just shot a possum. Yep, that's the possum.)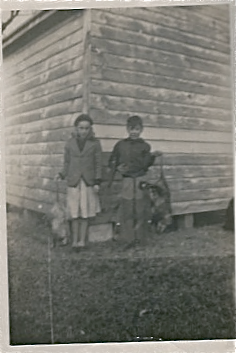 So the farm is where we grew up too. This is my brother with my mother's father, Papa Tench. My brother got to ride on the combine because he was a boy.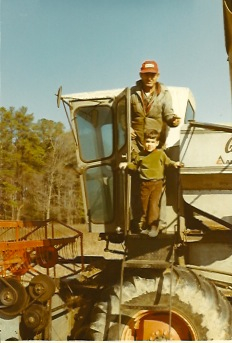 And here's my brother with my father, shortly after we moved back. As you can see, there were a number of things that were, er, guy territory. Although not possum-shooting, obviously.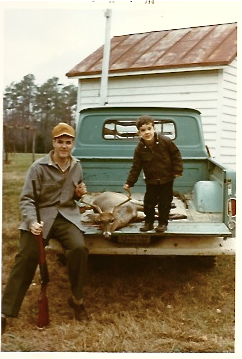 And not grass cutting, because I got to do that too.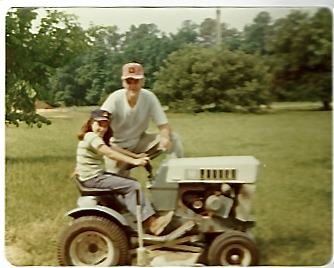 We raised hundreds of chickens, and we ate the eggs, and the chickens too. We raised pigs, and ate the pigs. We raised geese and ate the eggs (but not the geese.) We had a dairy cow named Taffy who ate the garden.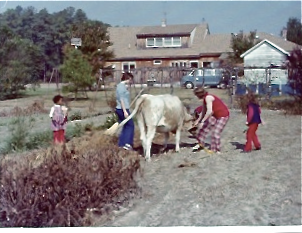 (My sister Deb on the left, me on the right, my mother with the grain bucket and the stylin' pants. And yes, that is a Volkswagen van back there behind the grape arbor.)
We chopped our own wood and used it to heat the house.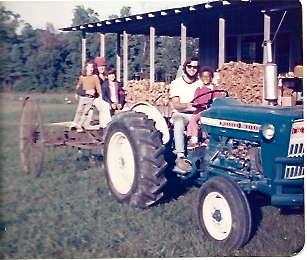 We rode our ponies everywhere.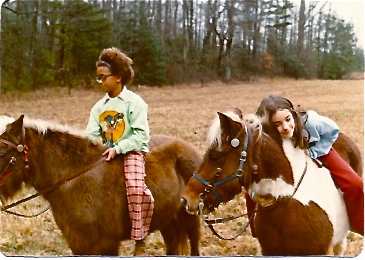 (My sister will kill me for putting that photo up. For some reason, she thinks our seventies-era clothes are less than flattering.)
We had acres of peach trees and apple trees and the world's most enormous garden.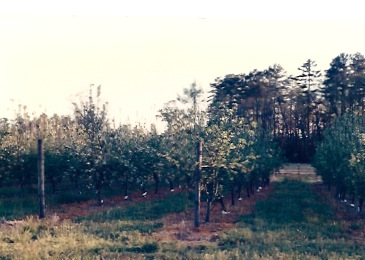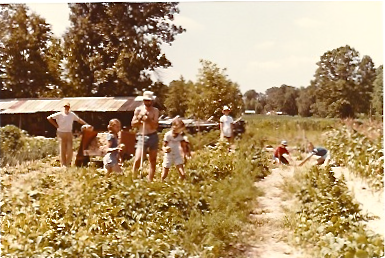 (I'm not completely sure who all those people are, helping dig the potatoes. We had a lot of random people living on the farm in those days. One of them used to clog in the living room. Another one lived in a tent down near the chicken houses.)
We canned peaches, and froze peaches, and canned applesauce, and froze vegetables, and stored root vegetables. We didn't live entirely off the land. But we came close.
What does all this have to do with new directions? Stay tuned for the next post. In the meantime, you can admire our vintage farm-wear…