The news of the weekend: Sarah Dunning Park, my wonderful map-artist, has finished all 99 maps. I'll be sending the hard copies on to Norton for copyediting next week, after which she'll probably tinker with a few of the elements (font sizes, line styles, etc.) before the finalized maps go on disk to the production department. Now Sarah can go back to moving into her new house (here she is on the porch of the trailer where she and her husband and baby have been camping out while the house construction wraps up):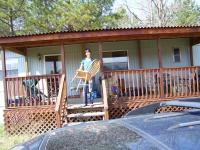 Meanwhile I have been doing everything in the world except writing. I spoke at a conference in Maine (lovely people, beautiful setting, but I forgot my camera) and lectured on rhetoric at the University of Richmond (ditto). This upcoming week I'll be in Philadelphia, taking part in a panel on education and doing a guest lecture at my alma mater, Westminster. I will try to remember the camera.
The travelling, which is an important writer-job (it keeps the books in front of the public eye), also makes it impossible to write. And with spring coming, duties on the farm tend to multiply as well. We had the first big grass-cut of the year today, a task made slightly more complicated because my second son (who is supposed to take over the grass-cutting duties this year) turned out to be just slightly too light for the Kubota zero-turn mower. It's got a safety switch that cuts the engine if it thinks the seat is empty, and whenever he shifts his weight, the engine quits. We finally solved this by putting one of Pete's fifteen-pound weights on the seat and plonking him down on top of it.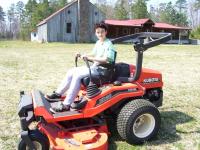 And off he goes, a very small spot in a very big field.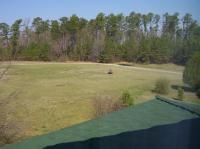 During all the travelling and grass-cutting and book-packing (I'm getting ready to move out to my new office) and permission-hunting, I am trying to carve out an occasional four or five hours to start on the next manuscript. Without at least one solitary period of writing a week, my imagination starts to wither. Right now it's feeling pretty dried and shrunken.
More next week…