In the middle of preparing lectures and spelling out writing lessons and elucidating grammar lessons and working on the History of the Renaissance World…the rest of life revolves on.
Revolves, turns, rotates…it's hard to find a word that carries the exact shade of meaning, the one that implies exactly the right sort of forward movement, taking the same exact struggles to a different place, in which they're neither the same nor different, but both distinct from the previous struggle, and identical to troubles which have come before…
Ahem.
This is a blog, not a book, which means (according to Nicholas Carr's The Shallows, which I'm finding incomplete and unsatisfactory) there's no point in reflectively considering deep issues on it.
Instead, let me just share with you my strategy for dealing with weeks in which I am not only writing/working/parenting/home educating but also dealing with multiple cases of family illness and assorted crises:
FOOD.
Cookies, sure. But although cookies are super-fine, when real troubles loom, a Virginia family needs chicken and dumplings. Forget chocolate: this is the ultimate comfort food.
So I cooked it for dinner tonight.
If I'd had the spare energy/mental space/knowledge of my camera's whereabouts I'd have taken a picture of mine, but I was simultaneously dealing with dispensing prescriptions meds/answering the phone/feeding needy animals/checking school lists/chopping onions.
This is someone else's photo that's really close, though.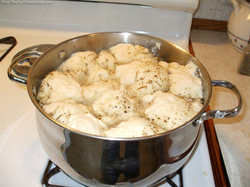 Doesn't give any sense of the warm happy soul-infusing well-being that the real thing produces. If you want to try it out, here's the two-part recipe, complete with all the parts where I throw in stuff without measuring it.
Part I: The Chicken

In a soup pot or stock pot (I use a copper pot this size), slosh enough olive oil or melt enough butter to cover the bottom. On medium-low heat, cook one chopped onion, two stalks of celery, two garlic cloves, and a couple of minced carrots until they begin to grow soft and brown (caramelize).
Add the chicken. I do this various ways; I roast two chickens for dinner (for six) and then pull the leftover meat off the bones for the next night's meal; I roast a single chicken first thing in the morning and then, around noon, toss it into my stock pot, cover it with water, let it bubble away for a couple of hours, and then pull the chicken out and set it on a plate to cool, after which I pull the meat off the bones (saving the water I boiled it in–the "stock"); or I brown five (or so) boneless chicken breasts in butter in my favorite iron saucepan so that the chicken has some color to it, and then cut up the partially-cooked breasts.
However you do this, toss the meat into the pot with the cooked veggies and saute it for a minute or two.
Then add chicken stock (canned or boxed, or home made–that's a different post) until the chicken and other elements are covered; then add 1/2 of the same amount of liquid again.
Simmer for twenty minutes or so; taste and then add salt, pepper, and thyme until the broth is to your linking.
Then add 1 1/2 cup of milk, put the lid on the pot, and turn it down to a gentle simmer while you mix up…
Part II: The Dumplings
Dumplings, in Virginia cooking, are baking-powder biscuits finished in liquid instead of on a baking sheet.
In a bowl, combine 2 1/2 cups flour, 2 tsp. baking powder, 1 tsp. salt, and 1/2 tsp. baking soda.
Into this combined dry mixture, drop 1/3 cup shortening (I like Crisco veg oil sticks).
Cut the shortening into the flour mixture–which means, get a baking tool that looks like this:



and press it down into the flour mixture and shortening until the mix looks like it has very small peas in it.
Pour 1 cup of buttermilk into the flour mixture and stir until the flour is just barely folded in (better to have a few stray grains of flour than to have a thinner, well-beaten batter…biscuits and dumplings are born out of lumpy batter).
Part III: Together
Drop the biscuit dough into the chicken mixture, about 1/3 cup at a time. The liquid that you drop the dough into should be bubbling, not still, and the biscuit dough should be formed into balls.
Put a lid on the pot and cook for 10 minutes over a medium heat without peeking.
Then correct the seasoning (which means, taste it and find out if you need to add more salt and pepper), ladle into deep bowls, and eat immediately.
And then you can luxuriate in warm happy soul-infusng well-being, at least until you have to administer your last dose of prescription meds and check your last round of grammar homework. Let me know how that works for you.