Well, I'm back from that alternate reality–the one where people keep buying me wonderful meals (thanks, Star and Jenny), and where all I have to do is walk through the streets of Manhattan, shop, drink coffee, and hang out at the public library meditating on medieval manuscripts. Yes, I'm sure I'd get tired of it if that's ALL I did.
So after arriving Sunday night, I got up Monday morning to a beautiful clear sky, drank a big cup of coffee, and wrote for a bit.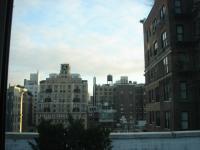 The Upper East Side out my window
Then I hauled my manuscript, in its big cardboard box, out of my luggage and walked down to the Norton offices at 500 Fifth Ave. with it under my arm. (And it was heavy. I had offered to give it to my editor the night before so that HE could carry it down to the office first thing Monday morning, but he declined.)
500 Fifth Ave. is a huge building with something like sixty floors and four different banks of elevators.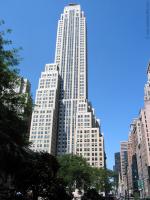 Fortunately I only had to go up to the fifth floor (I'm not crazy about either small spaces or elevators, which means New York would not be a good long-term fit for me.) Anyway, I delivered the manuscript to Star, waved hello to Morgen (the assistant editor who helps him out), and went down the hall to meet with Louise Brockett, Norton's publicity director who manages, somehow, to direct publicity while mothering four boys. We swapped condolences over the Games Workshop obsession shared by our offspring and then talked about various strategies for promotion–which I'll describe in more detail as I work on the Author Questionnaire over the next couple of months.
Tuesday, I went down to the New York Public Library to apply for an access card, which allows me to use the research collections. Spent a good part of the day working on my dissertation, so that while it was beautiful and sunny when I went in: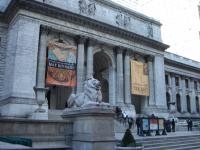 it was dark when I came out.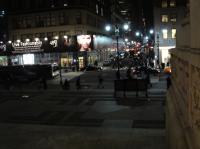 Then I took a taxi down to Columbia and had dinner with my best friends from seminary, Tuck and Stacy; we realized while they were stacking chairs up around us that it was after midnight and we'd been talking nonstop since 7 PM.
Wednesday I had coffee with my agent, Rich Henshaw, and worked out deadlines for my next manuscript delivery–I have to write the history of the medieval world and my dissertation. Simultaneously. No problemo. Rich has promised to demand reasonable deadlines on my behalf.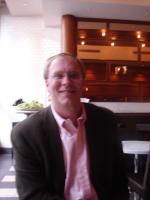 Rich at coffee shop.
And then spent the rest of the day 1) examining medieval manuscripts back at the library, 2) eating a really PHENOMENAL late lunch at a French restaurant off East 64th, and 3) heading back to LaGuardia.
Now I'm working out a schedule to get the maps finished, research all the permissions for the illustrations (I have copies of several photos I'd like to include, but I have no idea who holds the rights to them), and writing to every publisher whose works I quote at length. If you quote more than 250 words of prose or 2 lines of poetry from any one work, you're no longer covered by fair use and have to get explicit written permission from the rights holder–permission which usually costs anything from $10 to $300.
That's not all that's on the horizon: I need to outline the second history book and send the outline to Norton, and on Tuesday, I have to meet with my dissertation director and convince her that I can defend the thing in the fall. I'll post an update early next week.
And in case anyone is wondering…I didn't find a pair of shoes I liked. But I did buy a great sweater that went with the shoes I already own. 🙂