I'm sitting in JFK after a seven-hour Virgin Atlantic flight, waiting to catch the Delta commuter plane to Richmond. I'm happy to report that at the end of my eleven-day excursion, I now have a diagram (complete with swoopy lines) of exactly how I want Volume II to unfold. Huzzah.
Rather than posting a picture of JFK (BLEARGH), I'll wrap up with this photo from my touring-friend's blog (click here for her account of the French bicycle adventure).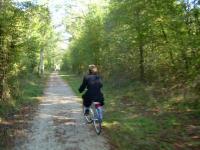 Hey, that's me!
Off to the Delta gate now. Have been up since…er…well, it's 4 PM East Coast time, and I got up at 5:30 AM Oxford time, which was 12:30 at night East Coast time…I'm too tired to do the math.
I regret to say that the second pass proofs are waiting for me at home, though. My editor's assistant assured me that they wouldn't be needed back until the 17th, and then left to take another job. Turns out they're actually due back on the 14th, which is Tuesday…which means I need to overnight them on Monday…which means I need to read them…tomorrow?
And again I say, BLEARGH. Something tells me that my kids (seen below jumping in leaves in my absence–Pete sent me these pictures by email so I wouldn't FORGET them in the intoxication of the Bodleian) are not going to sanction this course of action.
"Attack of the Huns"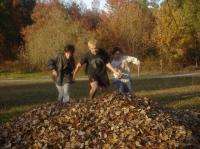 "The Flying Warrior Princess"